Humbled by a glorious 2017
Naatyaanjali kicked off 2017 with our yearly parents-teacher meet cum dance awards presentation on 4 Feb 2017.
1) Parents-Teacher Meet (4 Feb 2017)
Besides sharing feedback on the events of 2016, we discussed the purchase of bharathanatyam costumes for the students from the 9am class. It was heartwarming to see how parents came forward to help each other so that all students would have their costumes in time for upcoming performances.

Brindamathi - Best performer in theory and practical (9am class)

Swetha-Best Performer in theory and practical (10am class)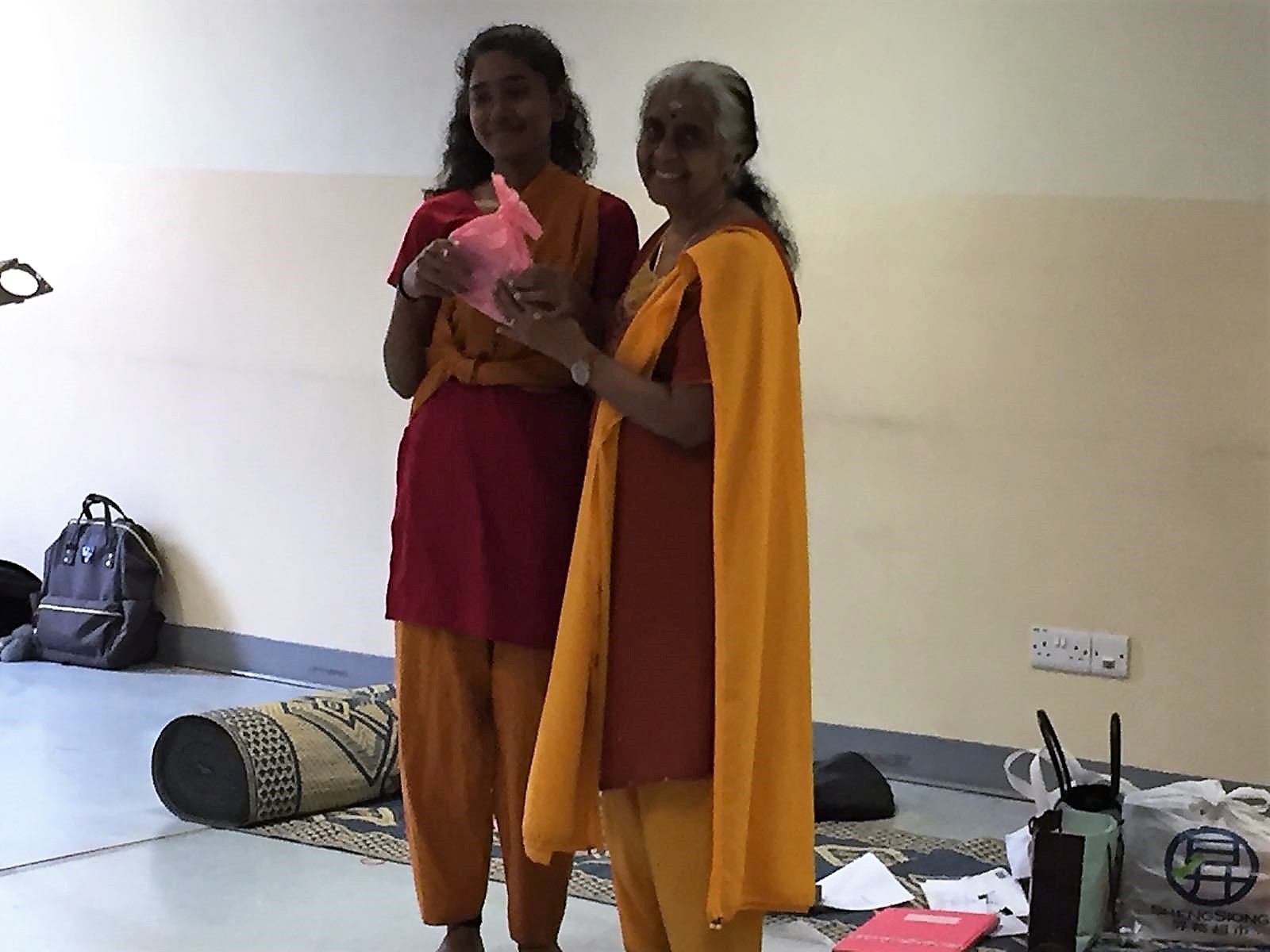 Abirami - Bloomed into a beautiful dancer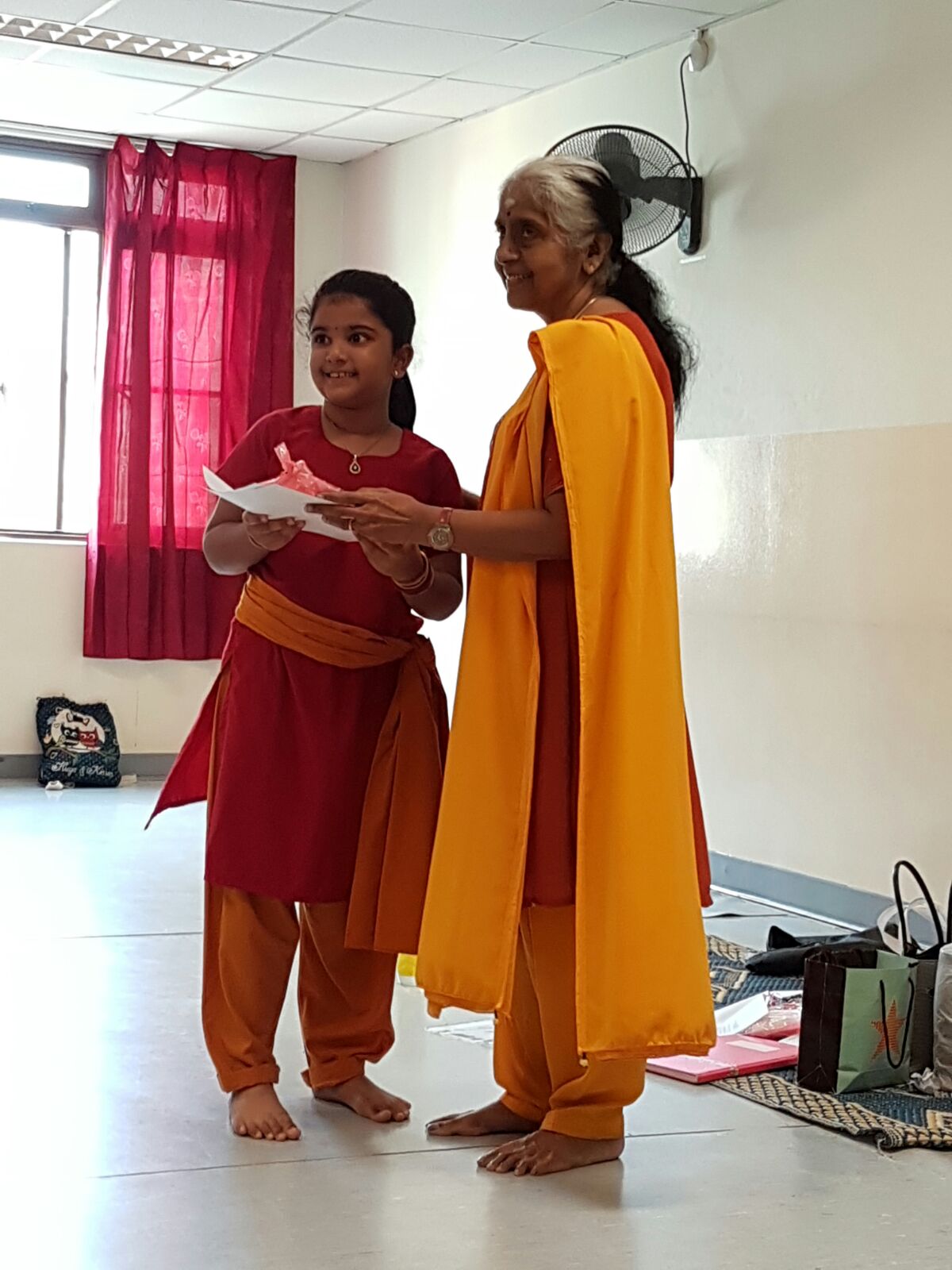 Laticar - displays a lot of passion

Abhinayya - Thanking the Parents for their perseverance

Parents-Teacher Meet

Proud recipients of Certificates
Feedback from the Teacher
The Teacher advised that students needed to practice more which should include stretching exercises. She added that the students did not fare up to expectations in the 2016 exams and expressed her concerns about it. She requested for Parents' cooperation to ensure their children are regular with their practices at home.
2) Dance Awards Presentation (4 Feb 2017)
At Naatyaanjali, we reward the passion in the artform more than the results.
| | |
| --- | --- |
| Student | Why award was given? |
| Brindamathi | Best performer in theory and practical (9am class) |
| Swetha | Best performer in theory and practical (10am class) |
| Rajeswari | Joined us recently but has shown a lot of interest and improved significantly |
| Abirami | A late bloomer who has grown into a beautiful dancer |
| Laticar | Stunned by her passion for dance at this young age |
| Abhinayya | The award is for the parents' perseverance in sending Abinaya to class even though she was not showing any interest in the beginning. Now she is even practicing at home. |
3) Annual Scholarship function (4 Feb 2017)
Vishaalini, Prsha, Tharani and Ashwinii performed at the annual scholarship function in Queensway Sri Muneeswaran Temple on 4 Feb 2017. They were praised for their coordinated graceful dance movements. Kudos Naatyaanjalis!

Posing before the performance

We are ready to get on stage!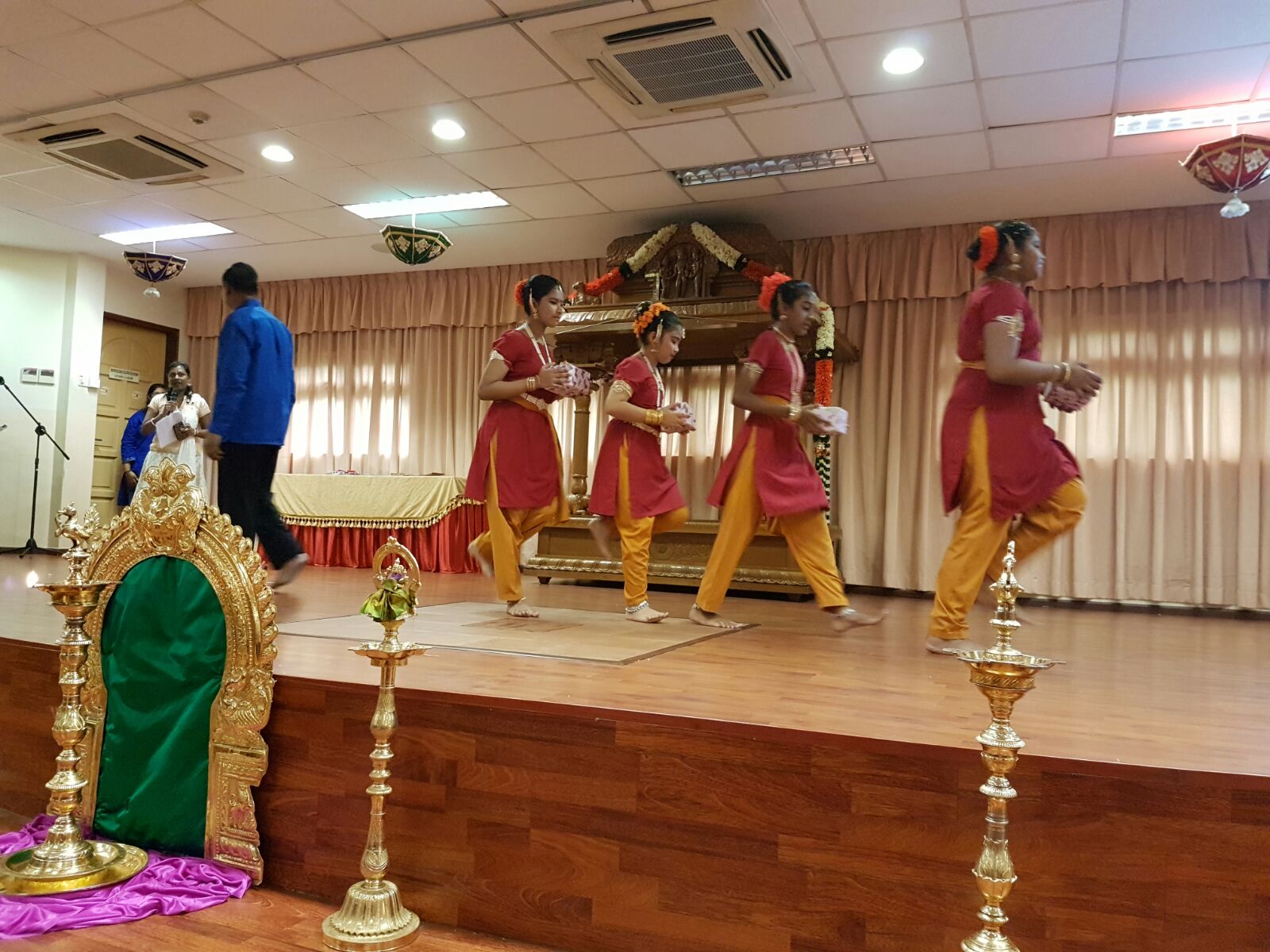 Recognition for their performance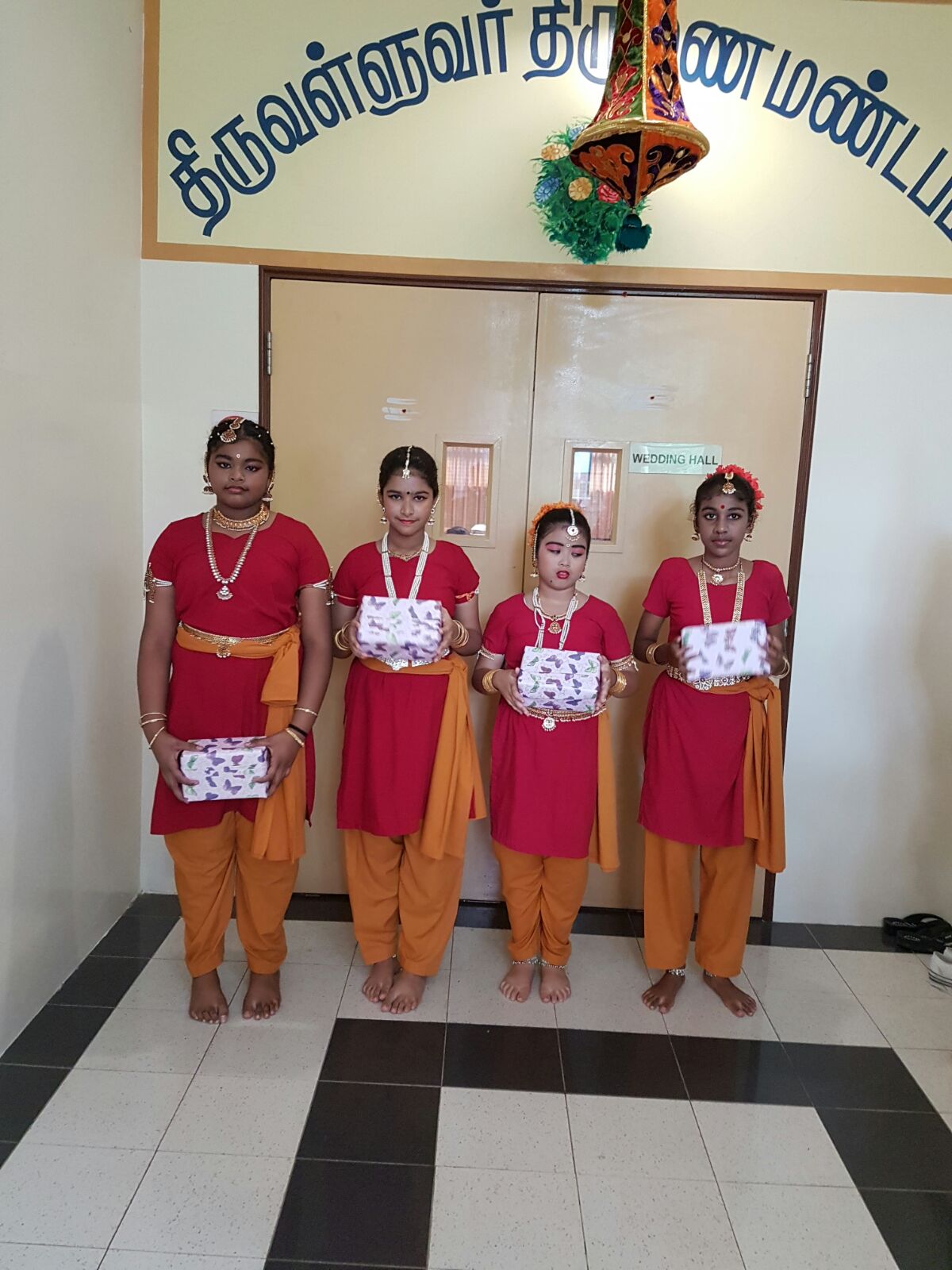 A shot after the performance
4) Naatyaanjali's 2nd Arangetram (18 Feb 2017)
Naatyaanjali and Kunasekarans jointly presented Shanjini Seva Kunasekaran's arangetram on 18 Feb 2017 at the Performing Arts Theatre, SIM Headquarters.
The arangetram was a culmination of many months of training and a relentless fight against all odds to deliver it to perfection. Regardless of the challenges of juggling a full-time job, family and dance, Shanjini persevered and fulfilled her Mother's dream – her arangetram.
Nine items (Pushpanjali, Alarippu with Thiruppugazh, Jatiswaram, Varnam – Puram Yaeri, Thaamarai Poovil, Geetha Ubadesham and Thedi Unnai Padams, Thillana and Naatyaanjali's Mangalam) were delivered over a two and a half hour performance. The beauty of every move, expression, pose, emotion were enhanced by the strong support from the following musicians for the evening.
Musicians
Choreographer & Nattuvangam
Jeyanthi Arumuganathan
Vocalist
V M Sai Vighneswar
Mridangist
Madras Kajan
Flautist
Raghavendran Rajasekaran
Violinist
Sughosh Pavan S
After watching Shanjini's arangetram, the younger Naatyaanjalis were even more motivated to complete their own when the time is ripe. They shared what they liked about the arangetram, what could be done better and how they plan to achieve theirs. We have included their write-ups for your reading pleasure.
Thank you Shanjini for the passion you have for Bharathanatyam and for inspiring our younger Naatyaanjalis.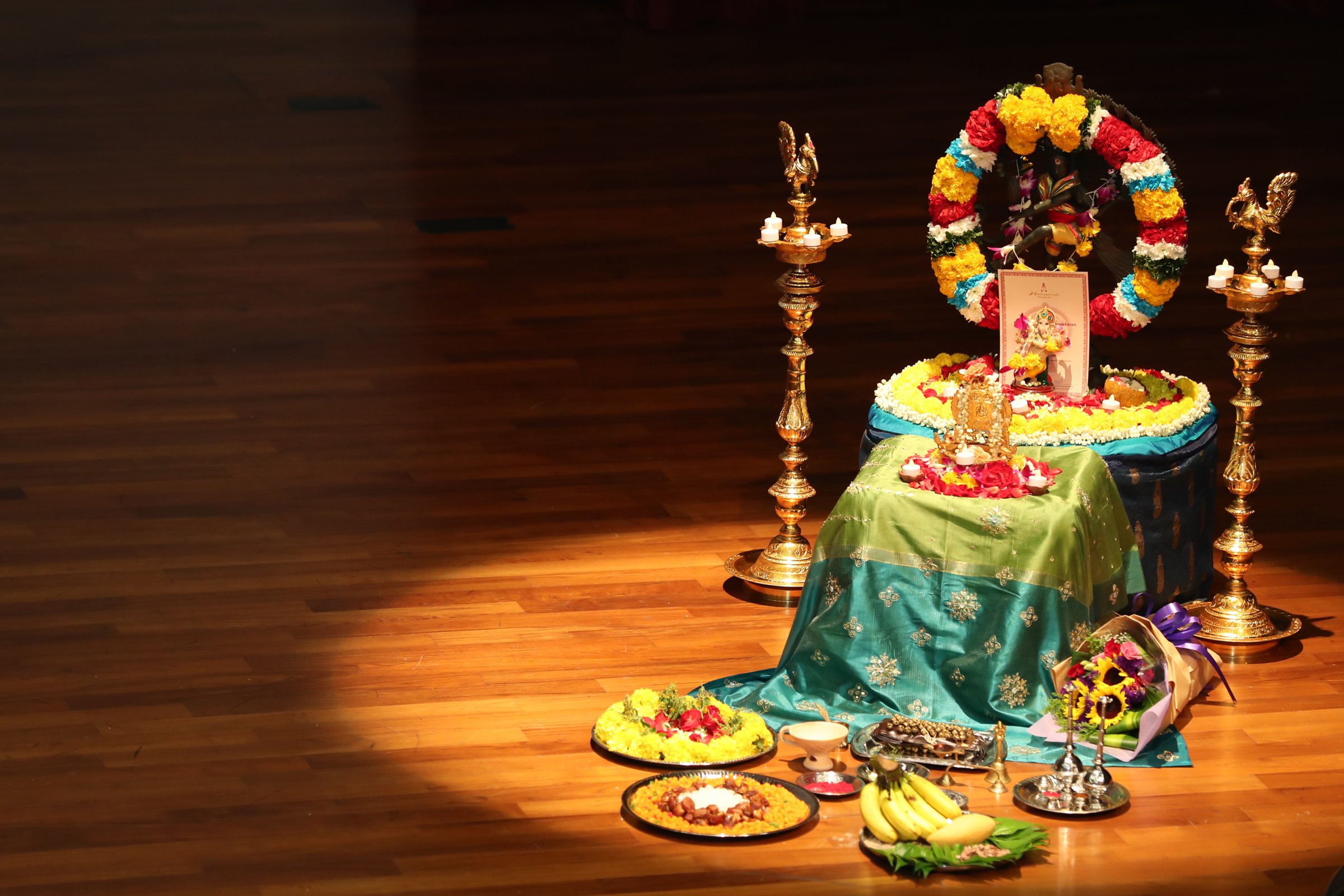 Stage Deco

Prayers before Arangetram

Blessings from everyone before the show

Blessings from the Husband before the show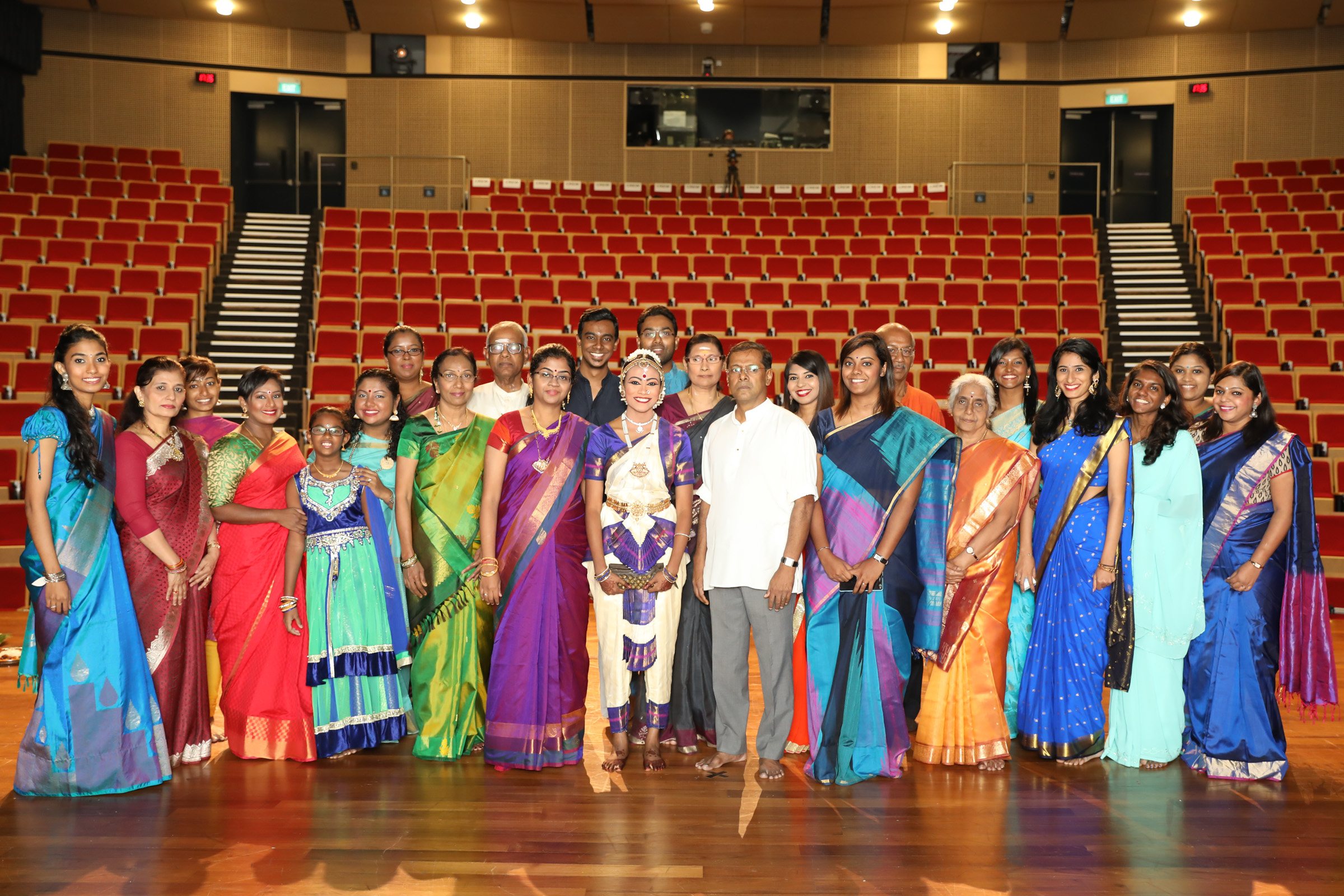 A shot together before the performance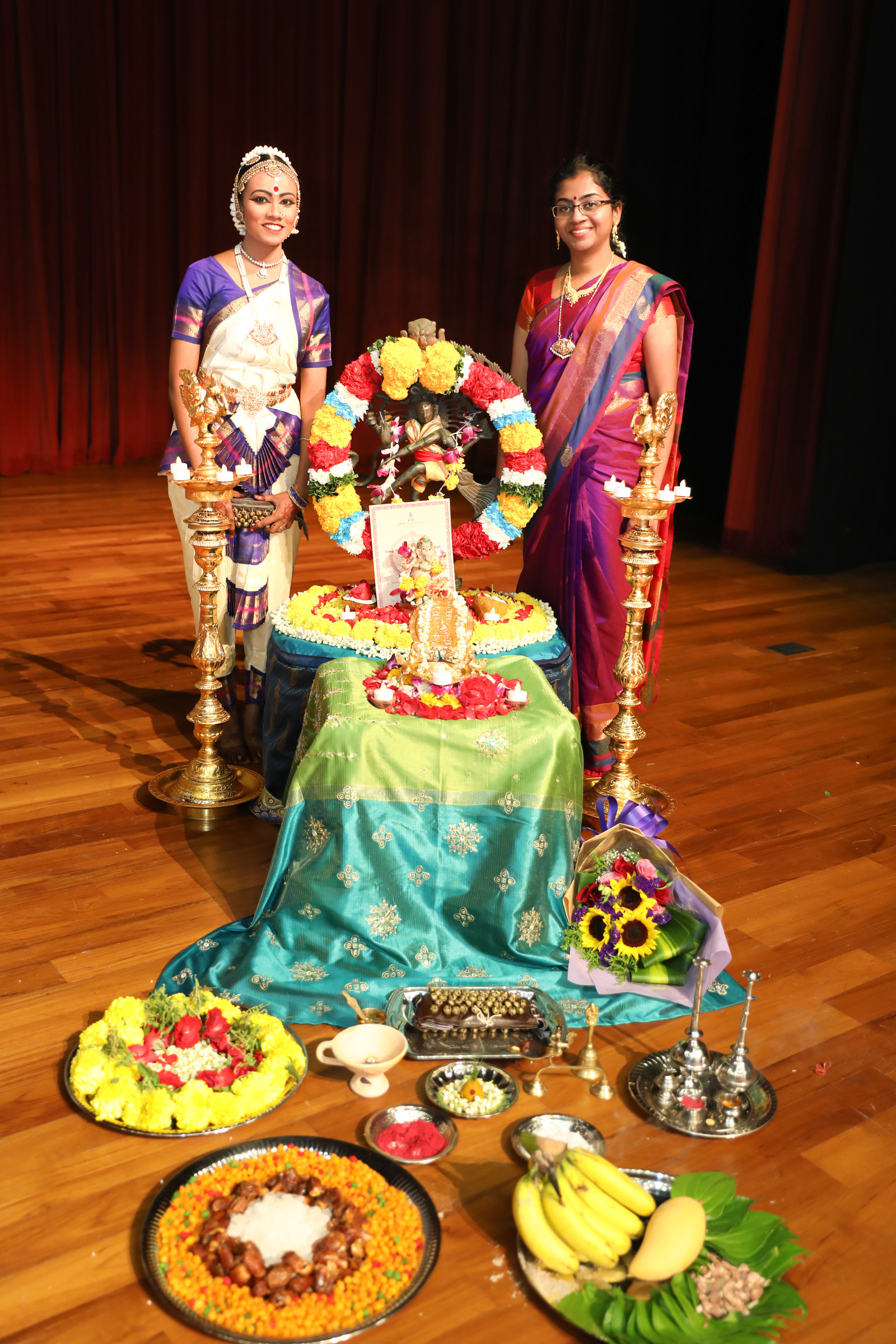 Teacher & Student shot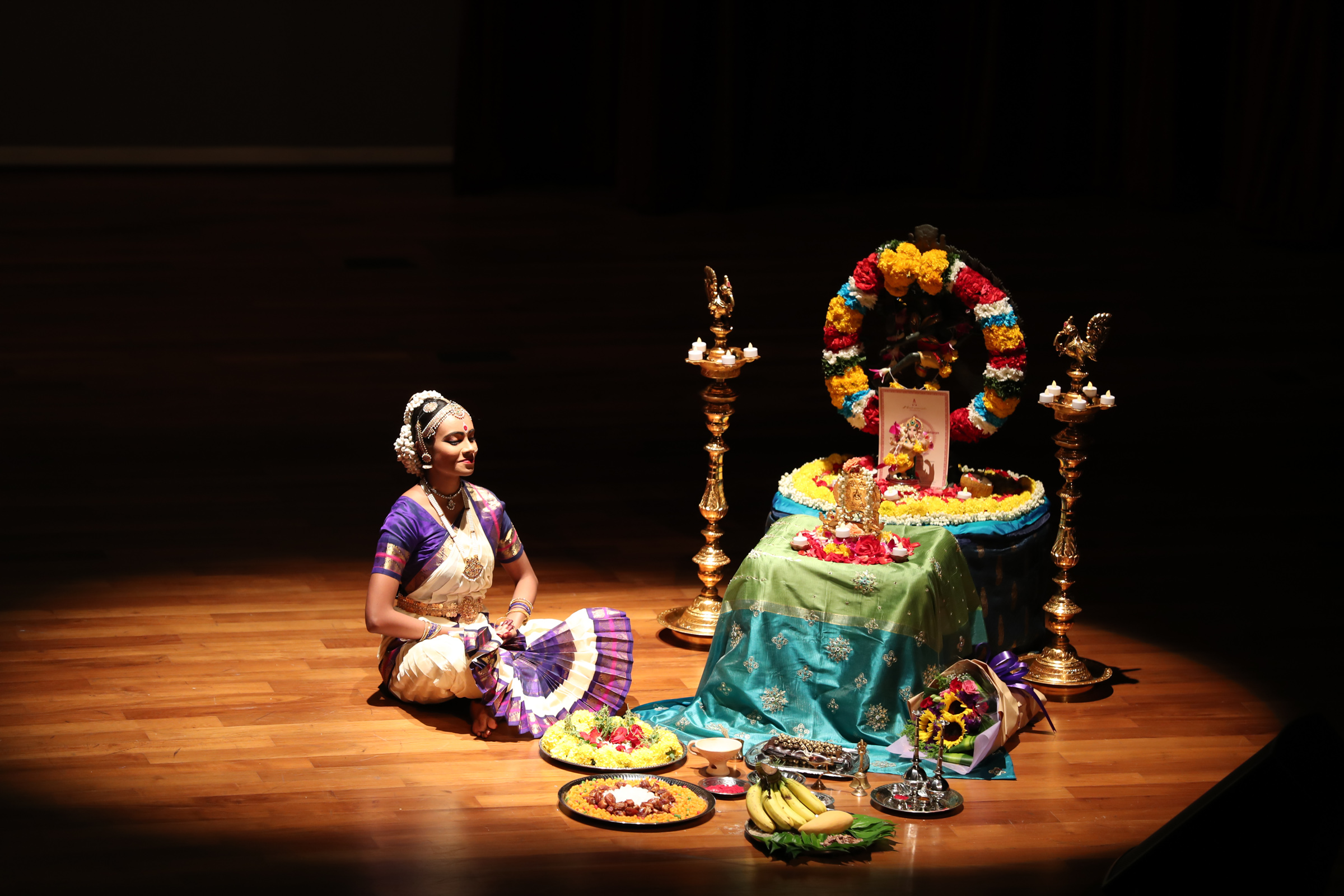 Being one with The One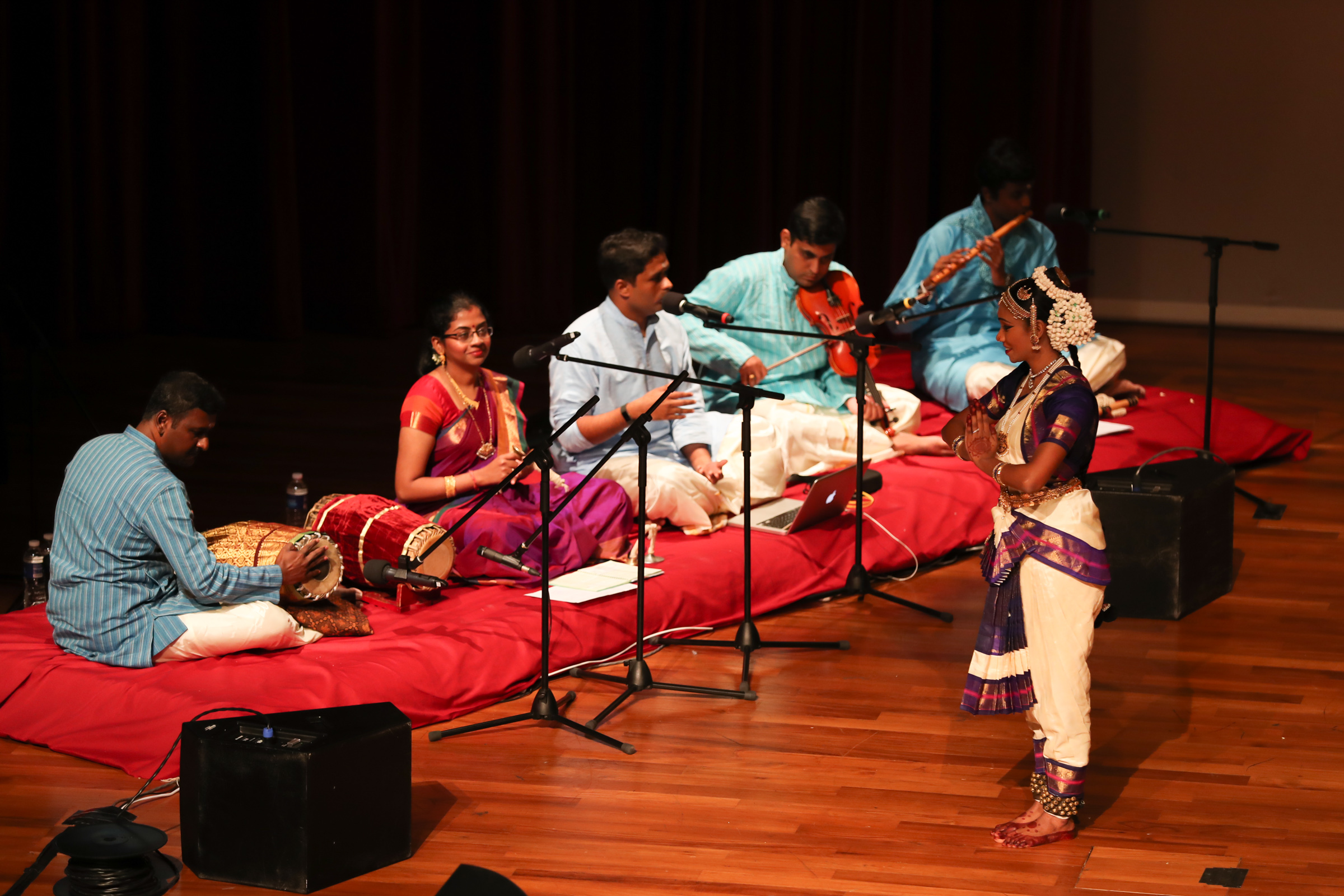 Paying respects to the Musicians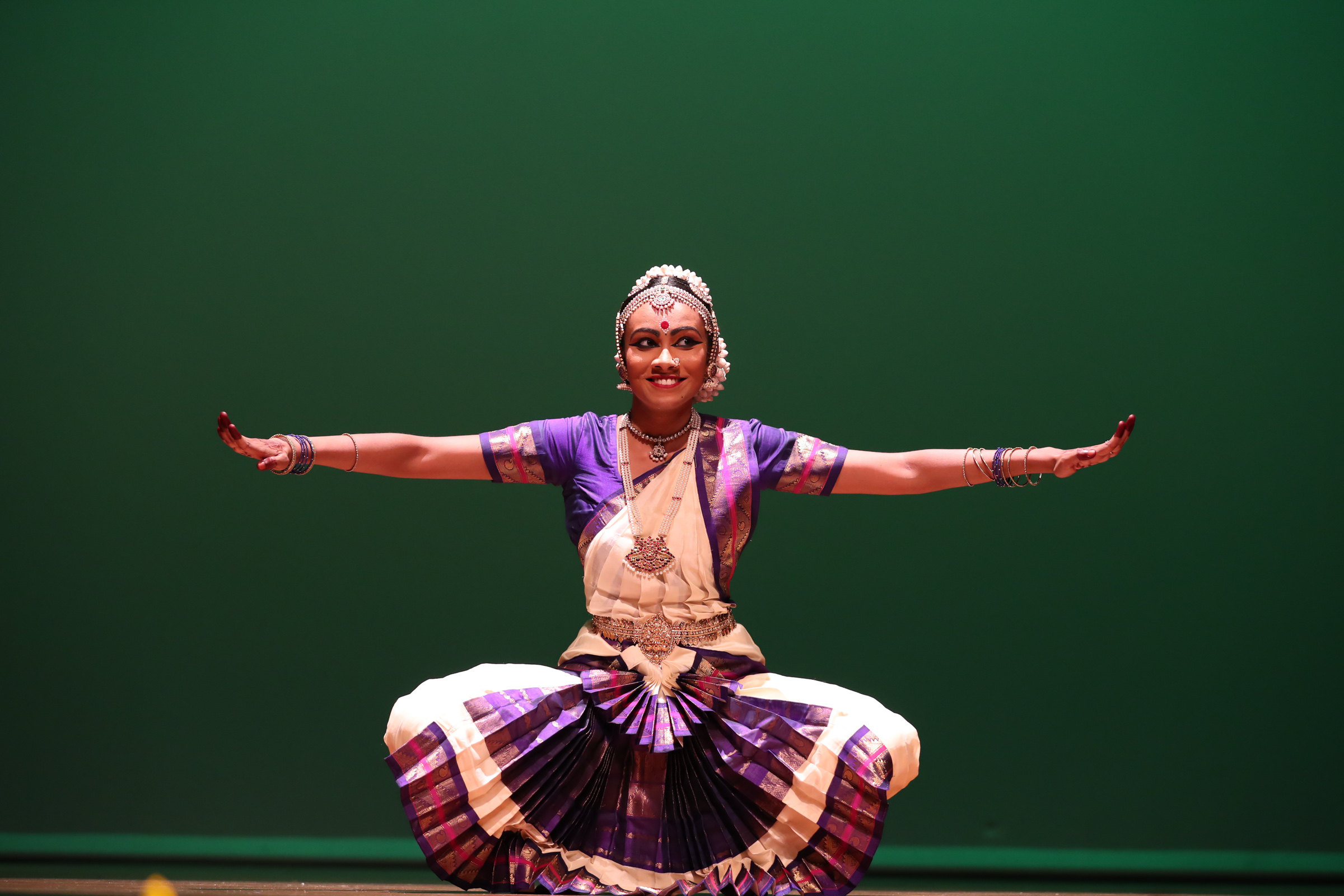 From the Third Eye

Shivan pose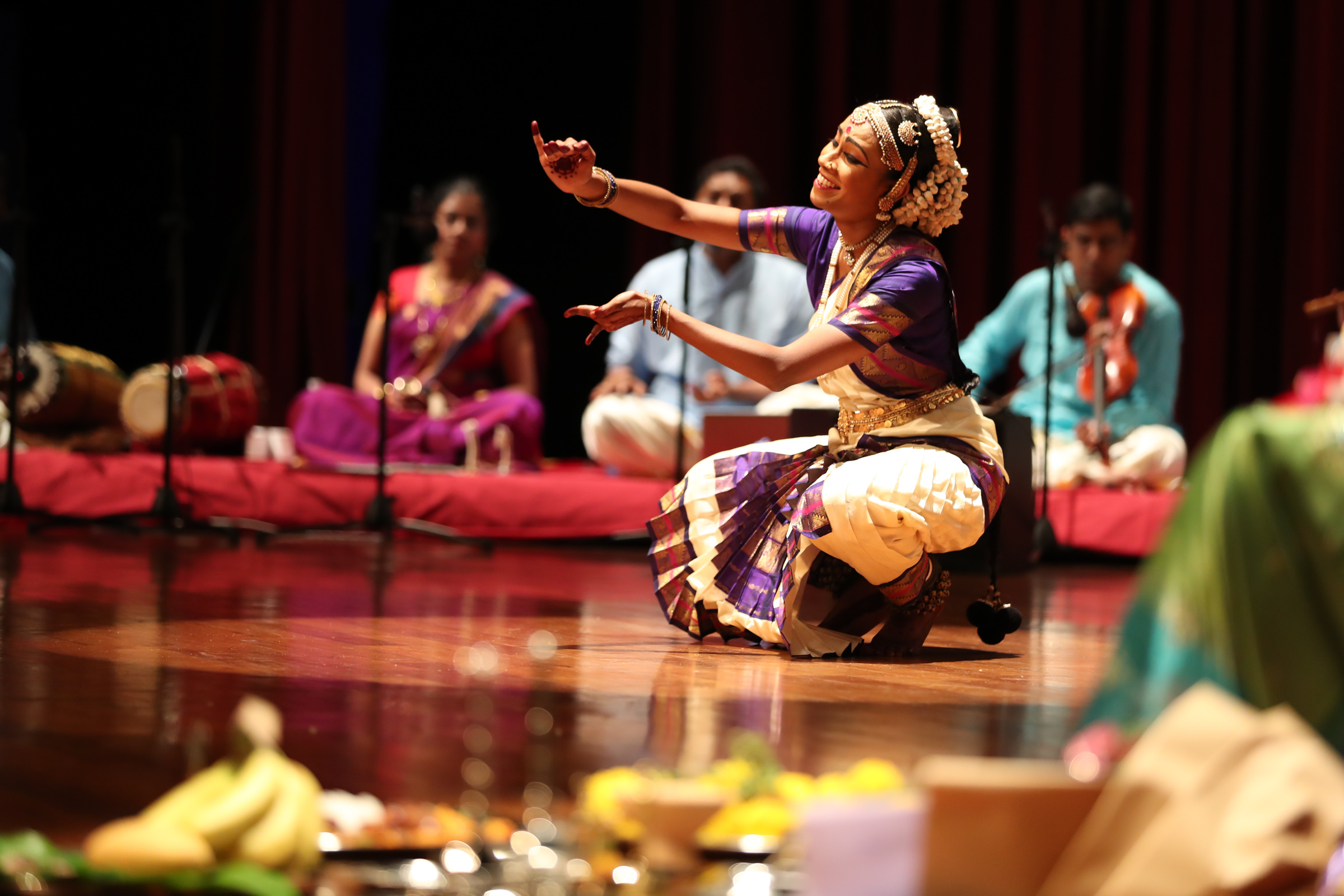 Oh Little One

Hmm whats that?

What?

The Evil One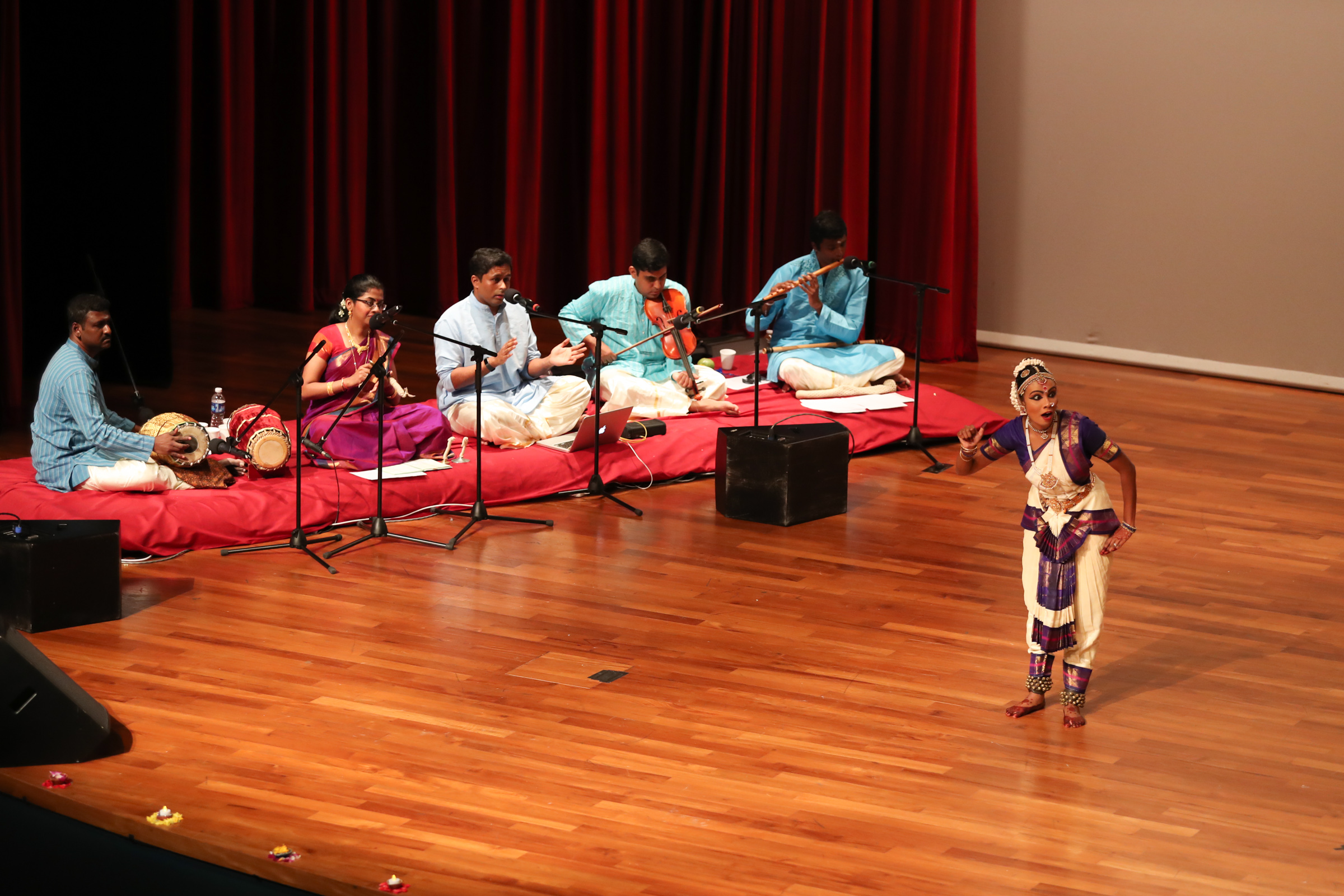 You want to fight with me?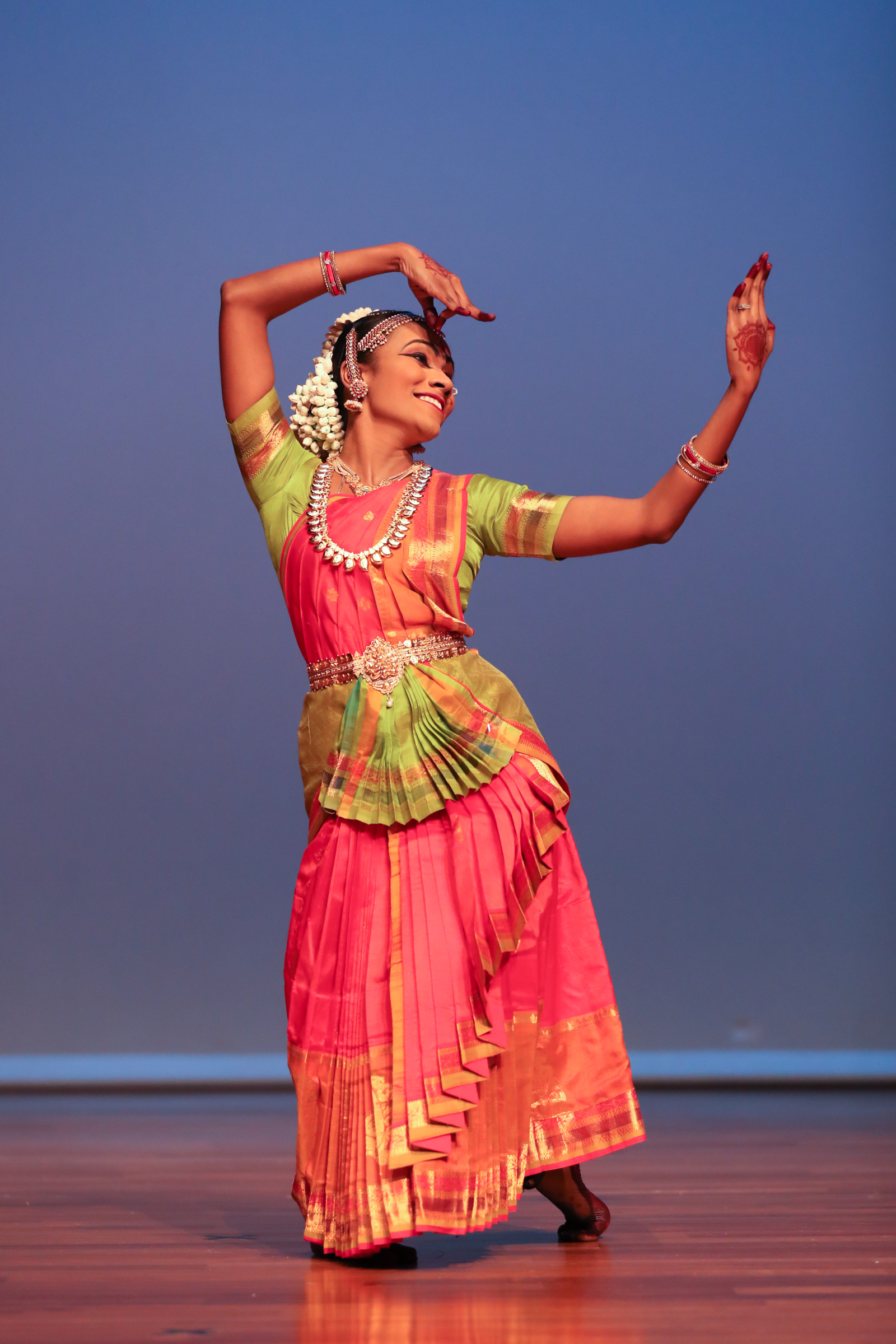 Oh Beautiful One!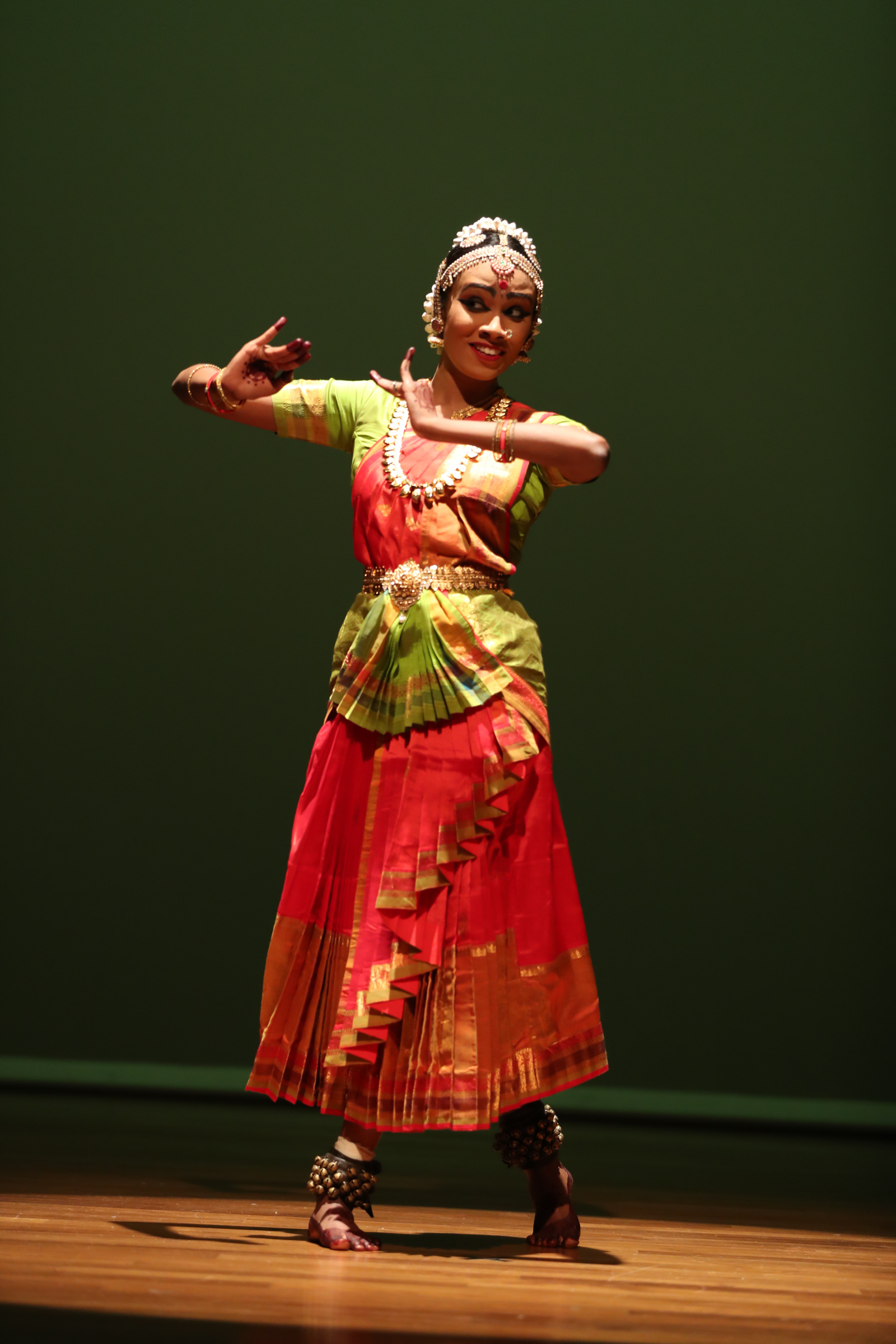 Krishna pose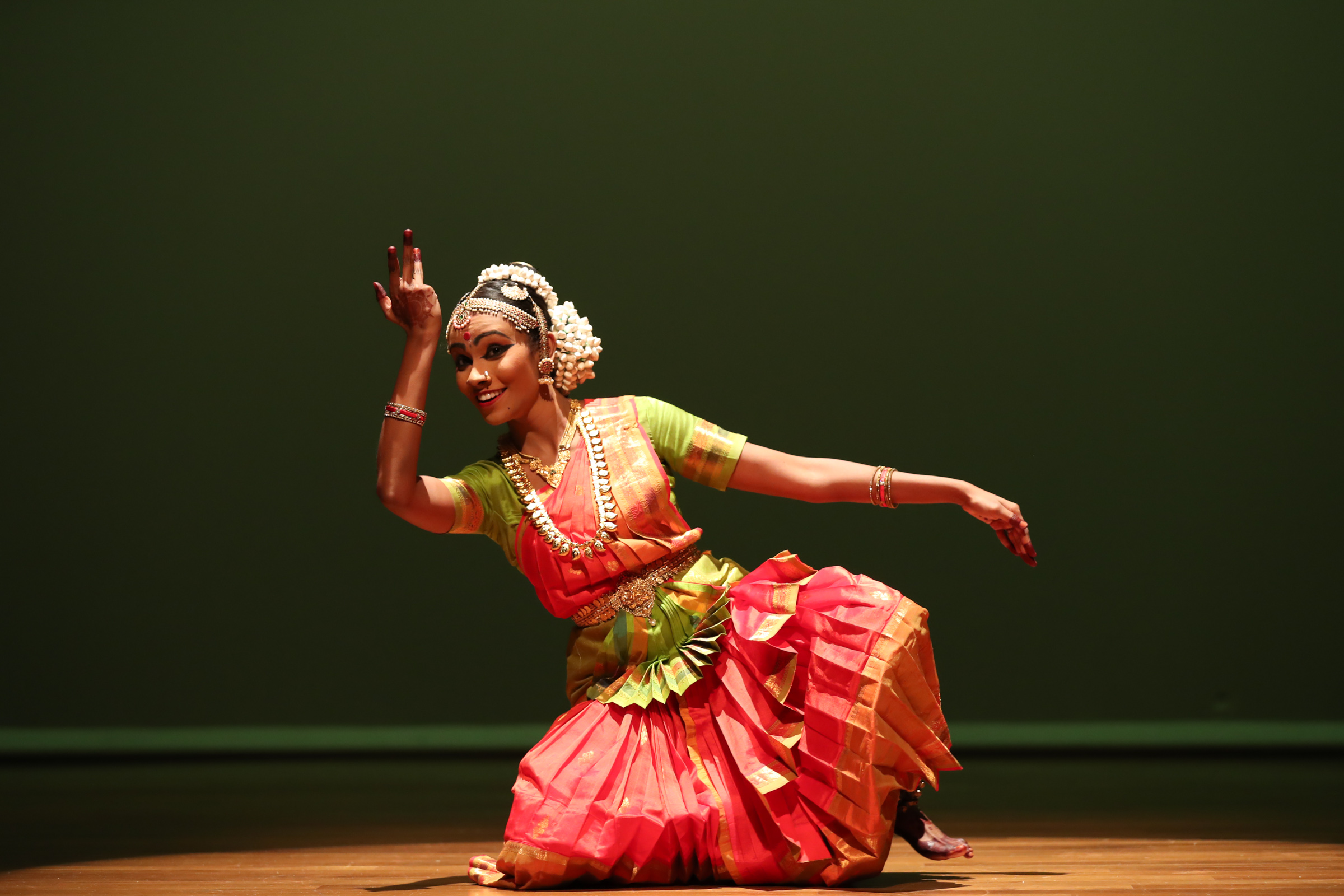 Dancing merrily

Krishna with HIS butter

Oh Holy One!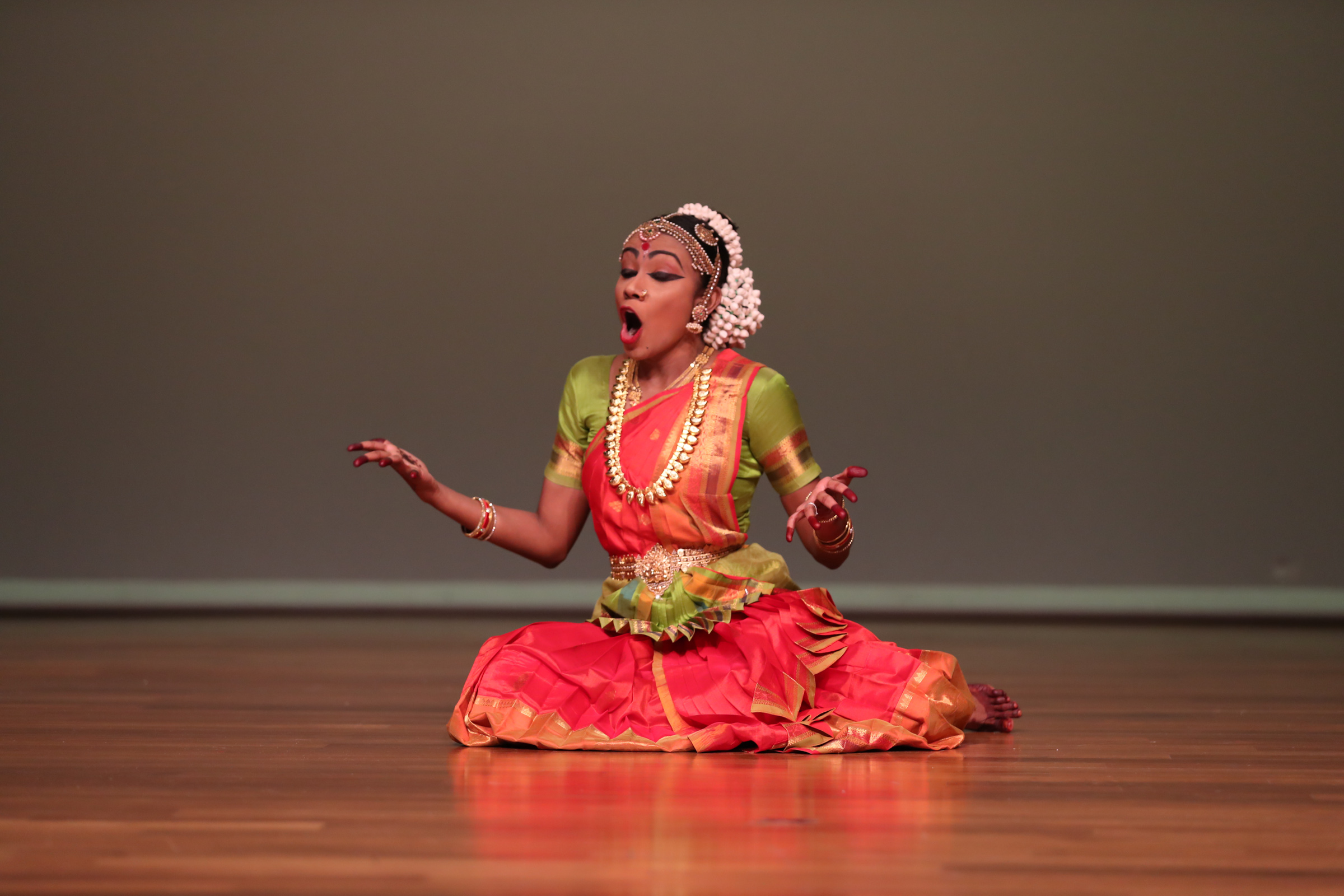 All the butter is for me!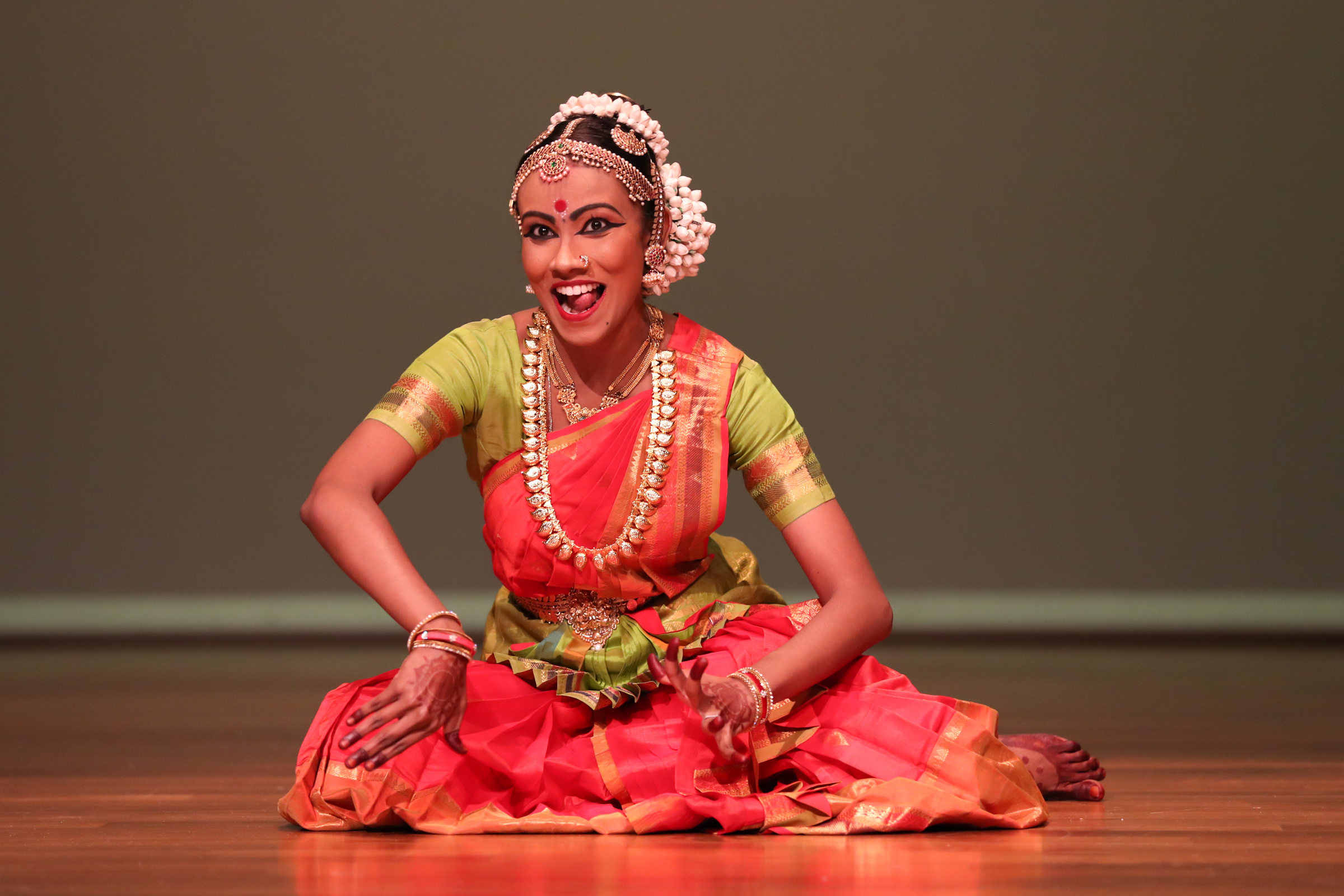 Krishna so happy with HIS butter

Draupadi saving HER chastity

What? The Pandavas lost?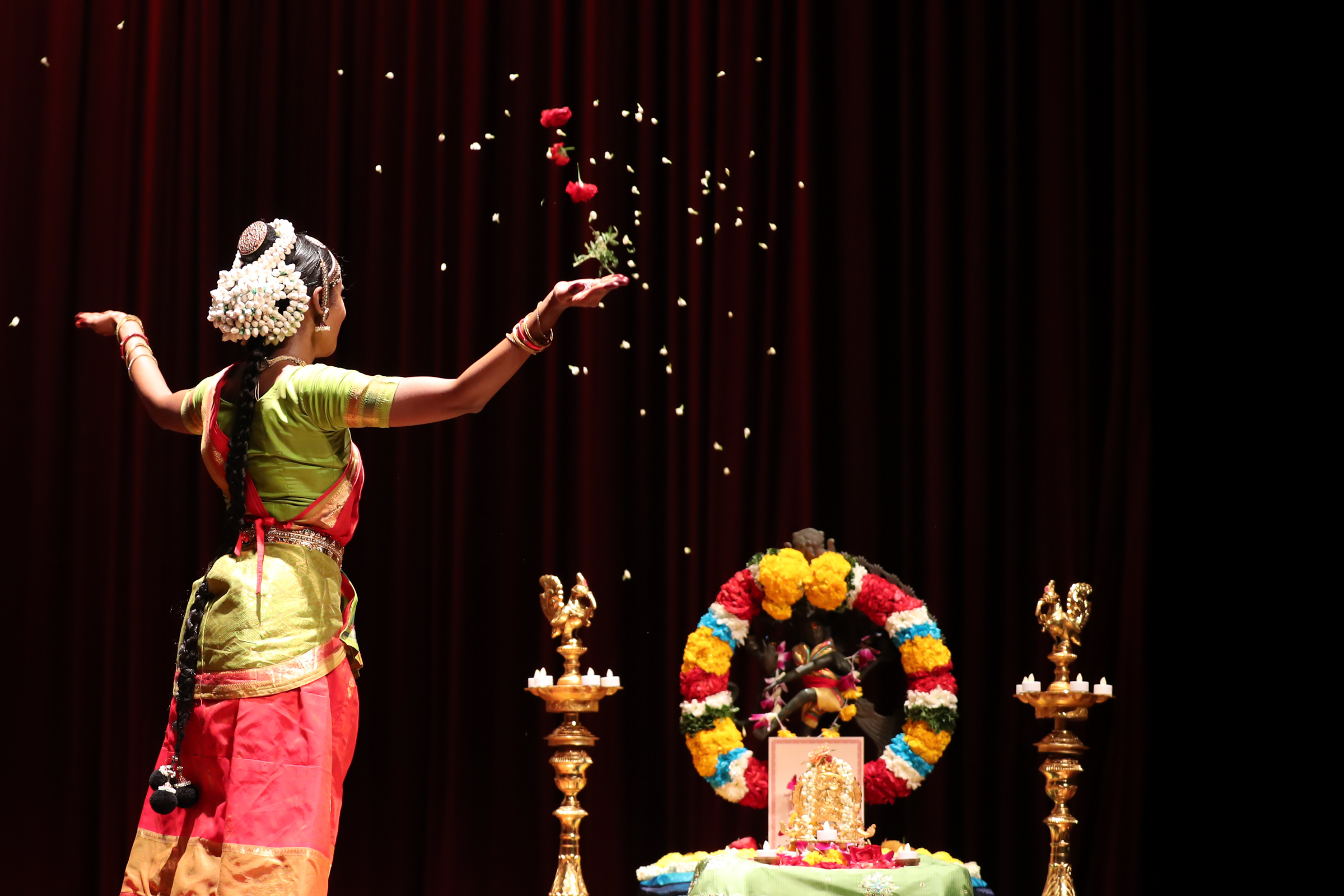 Celebrating the completion of the Arangetram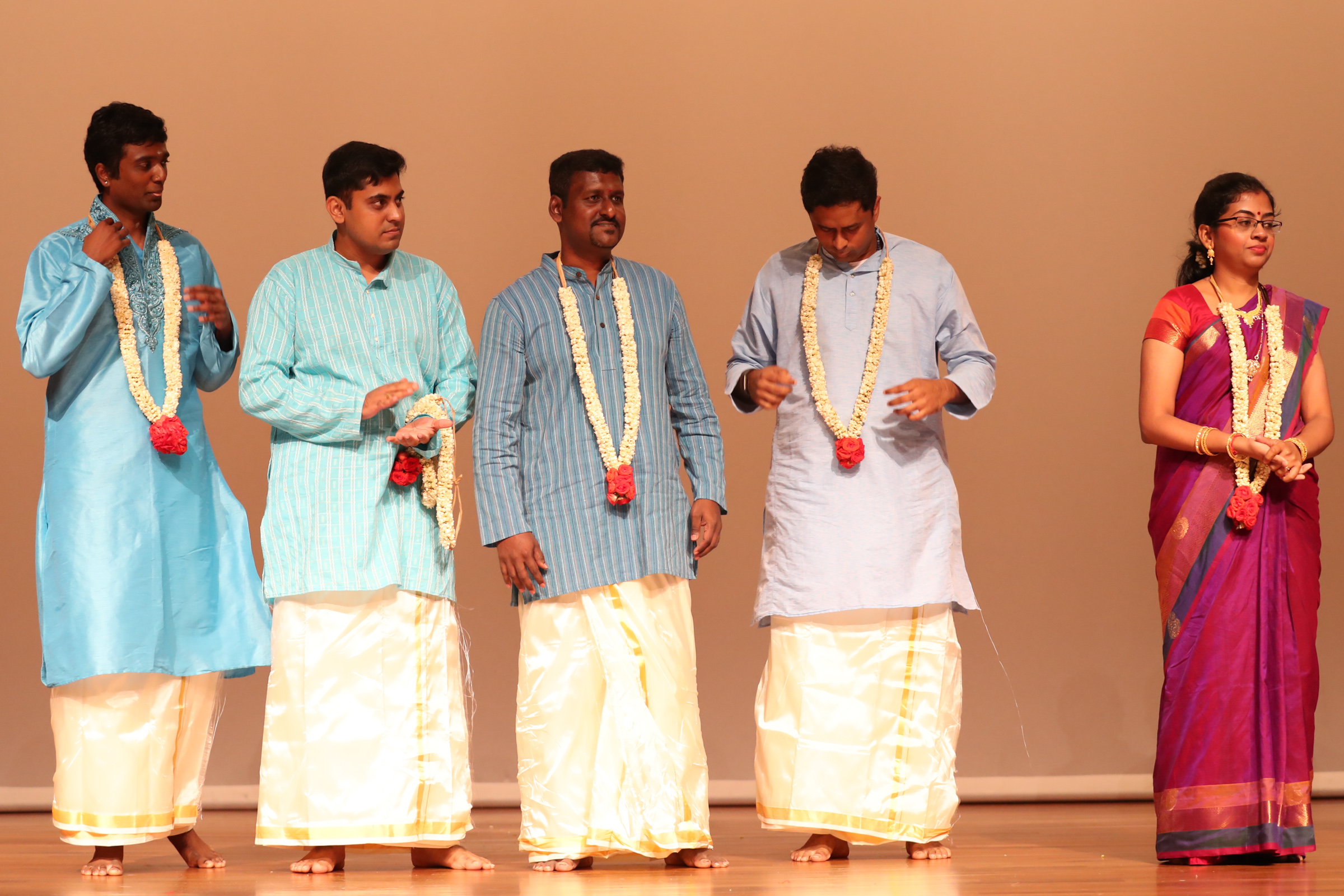 Musicians being honoured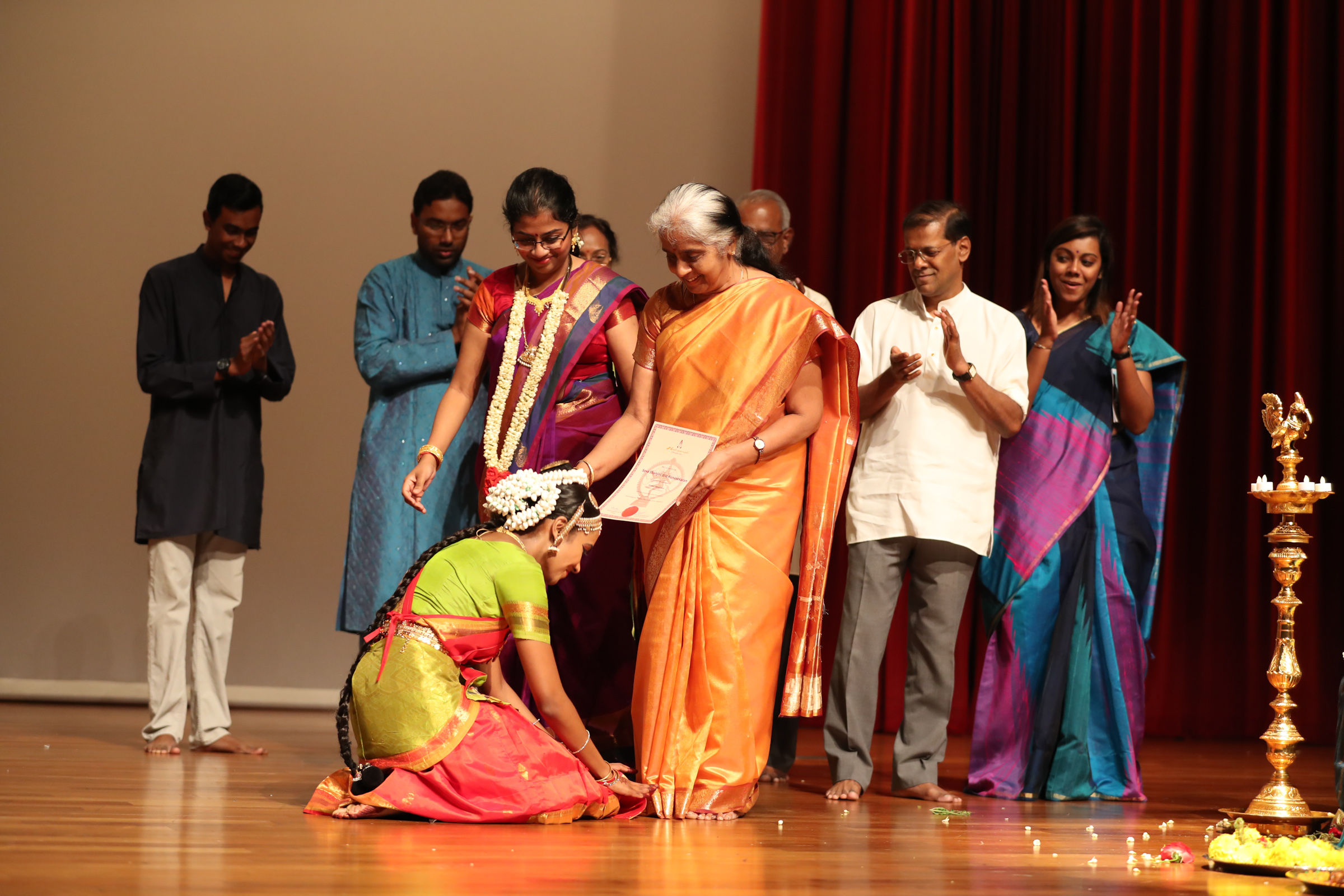 Certificate presentation

The Joyful moment

Seeking blessings from the Teacher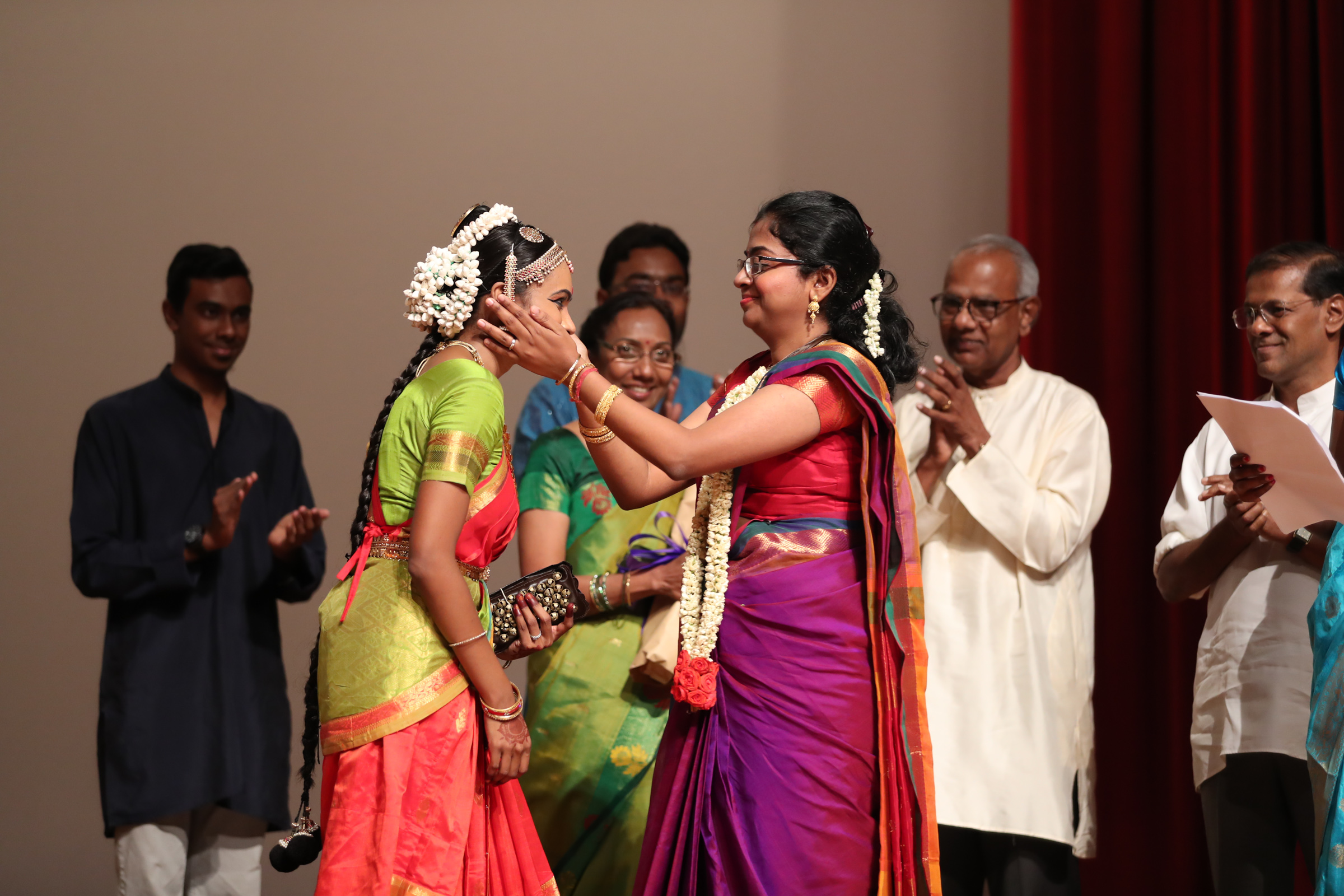 Proud Teacher

Speech by the Teacher

Thanking the Teacher

The Team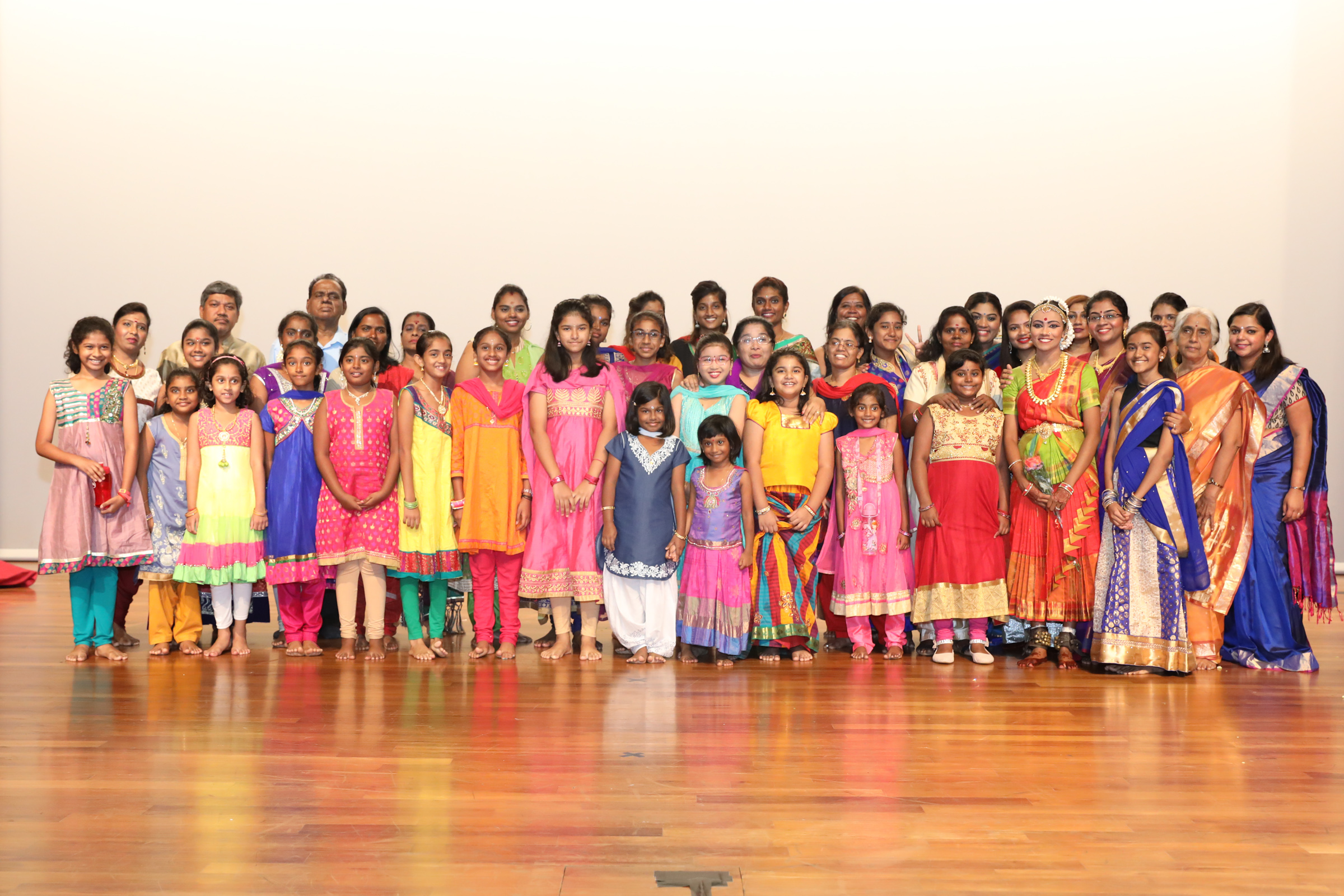 Naatyaanjalis together with Shanjini
5) Mahasivarathiri performance (24 Feb 2017)
Naatyaanjali was given an opportunity to perform at the Mahasivarathiri function at Sri Ruthra Kaliamman Temple on 24 Feb 2017. Shanjini Seva Kunasekaran performed several of her arangetram pieces at this function. To perform within a week after her arangetram is indeed a true blessing!
6) Chariot performance at West Coast (13 May 2017)
A cultural performance for the chariot procession (Chithraa Pournami Flag Hoisting Festival) was jointly organized by West Coast Community Centre and Sri Ruthra Kaliamman Temple. Our Naatyaanjalis performed Ganesha Katuvam, Pushpanjali, Kolatam and a combination of Krithis at this function on 13 May 2017 which was graced by Mr S Iswaran, Minister of Trade and Industry.

In the midst of Pushpanjali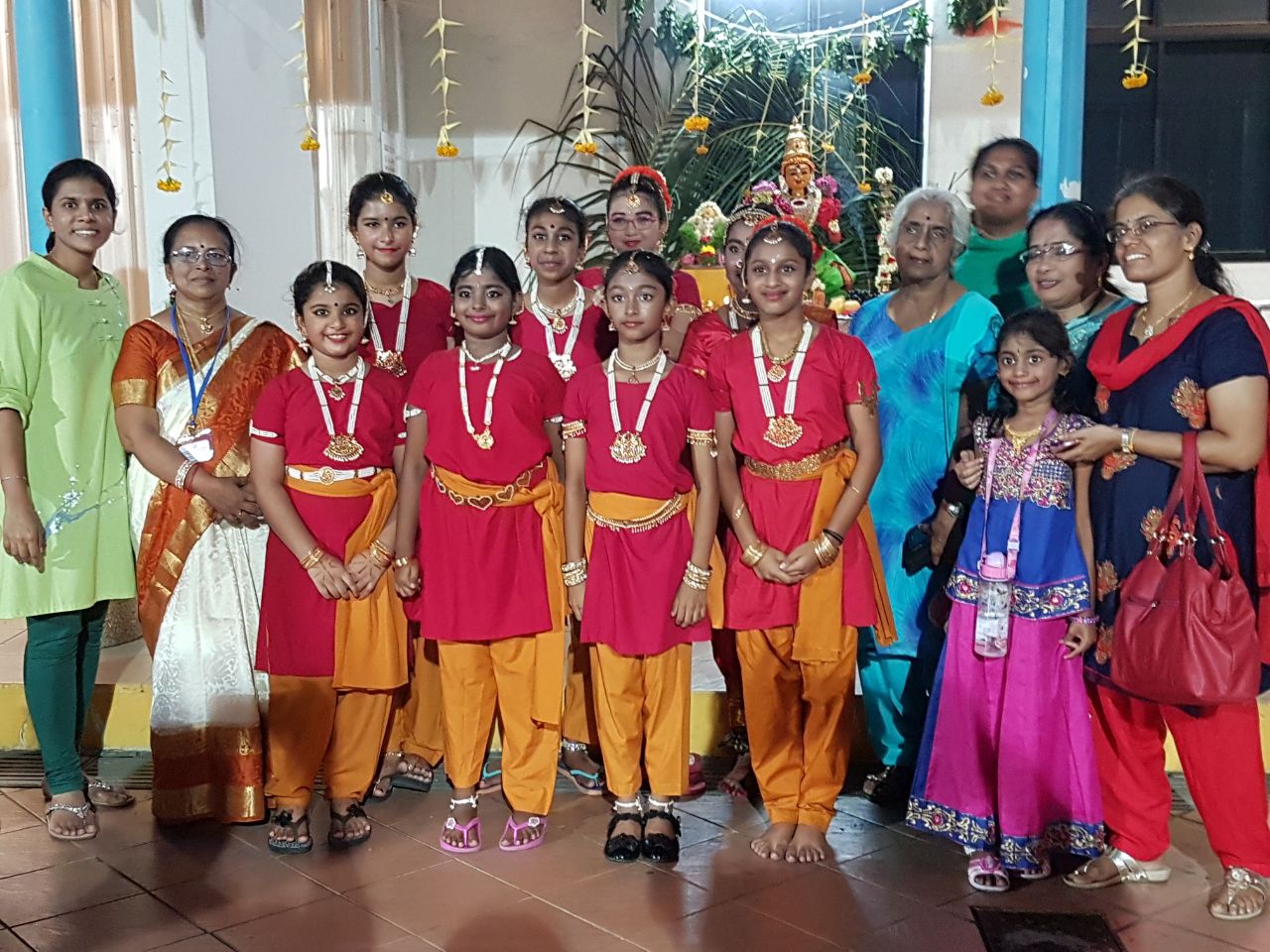 Group photo after a good performance

A photo with Minister S Iswaran
7) 52nd National Day Performance (Jul 2017)
Abirami and Aandaal Visvanathan performed at the 52nd National Day celebrations at Jurong West St 41 with Mr Desmond Lee (Minister for Social and Family Development and 2nd Minister in the Ministry of National Development) as the Guest of Honour.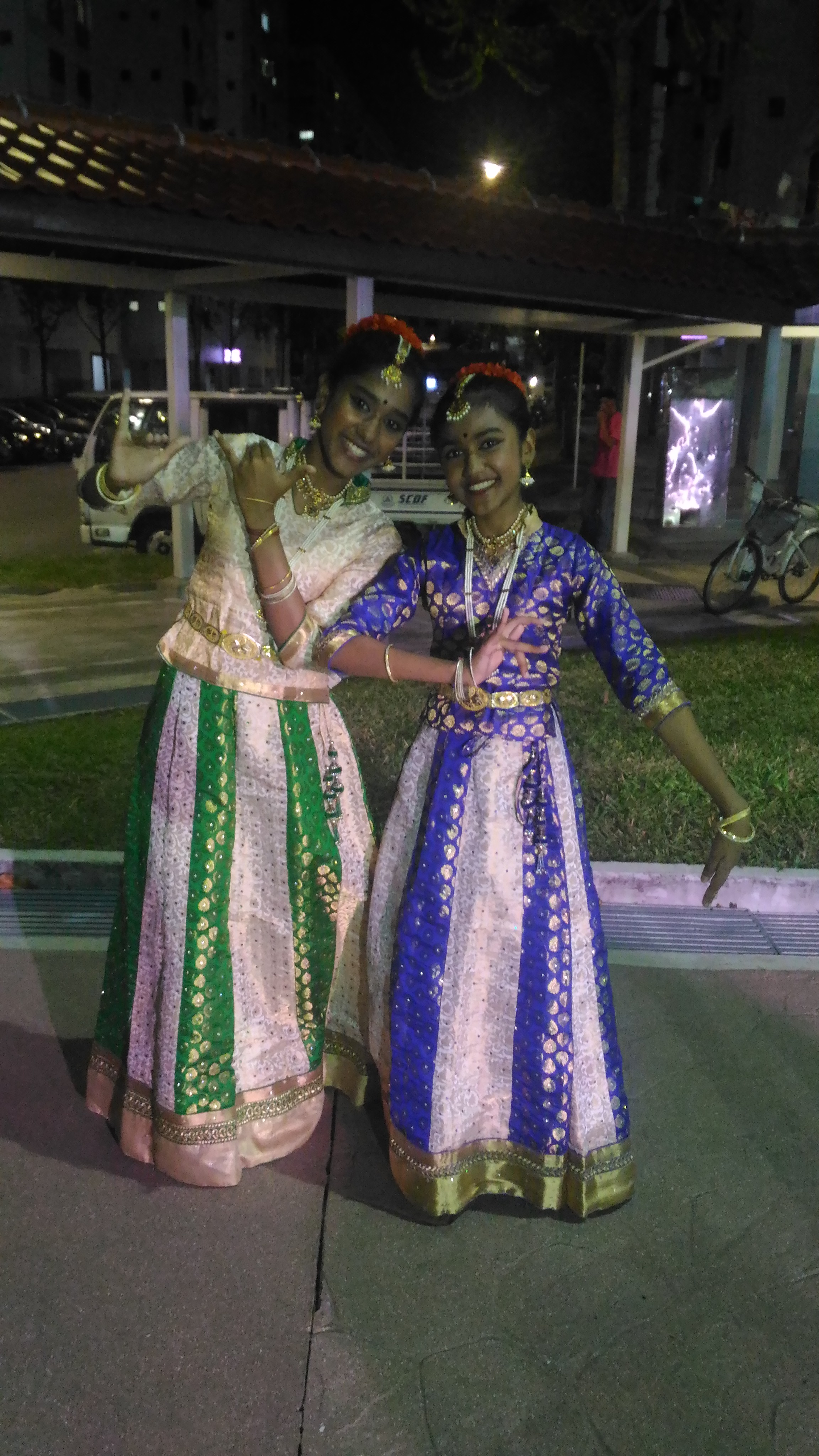 Pose by the Visvanathan sisters

Photo with Minister Desmond Lee
8) Navarathiri performances
23 Sep 2017 – Sri Ruthra Kaliamman Temple (Depot Road)

The preparation before the show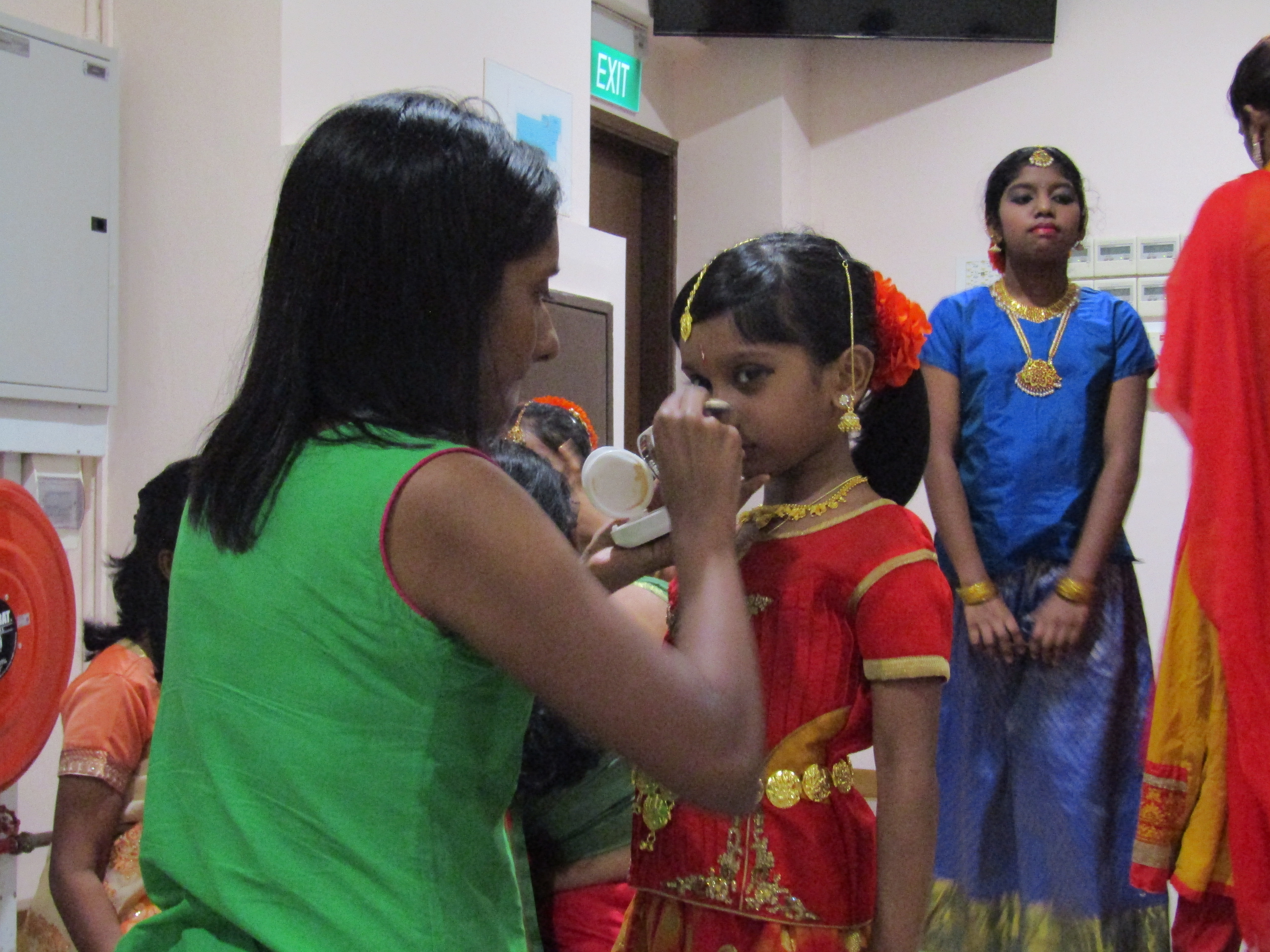 A mother trying her hand at dance makeup

Teamwork at its best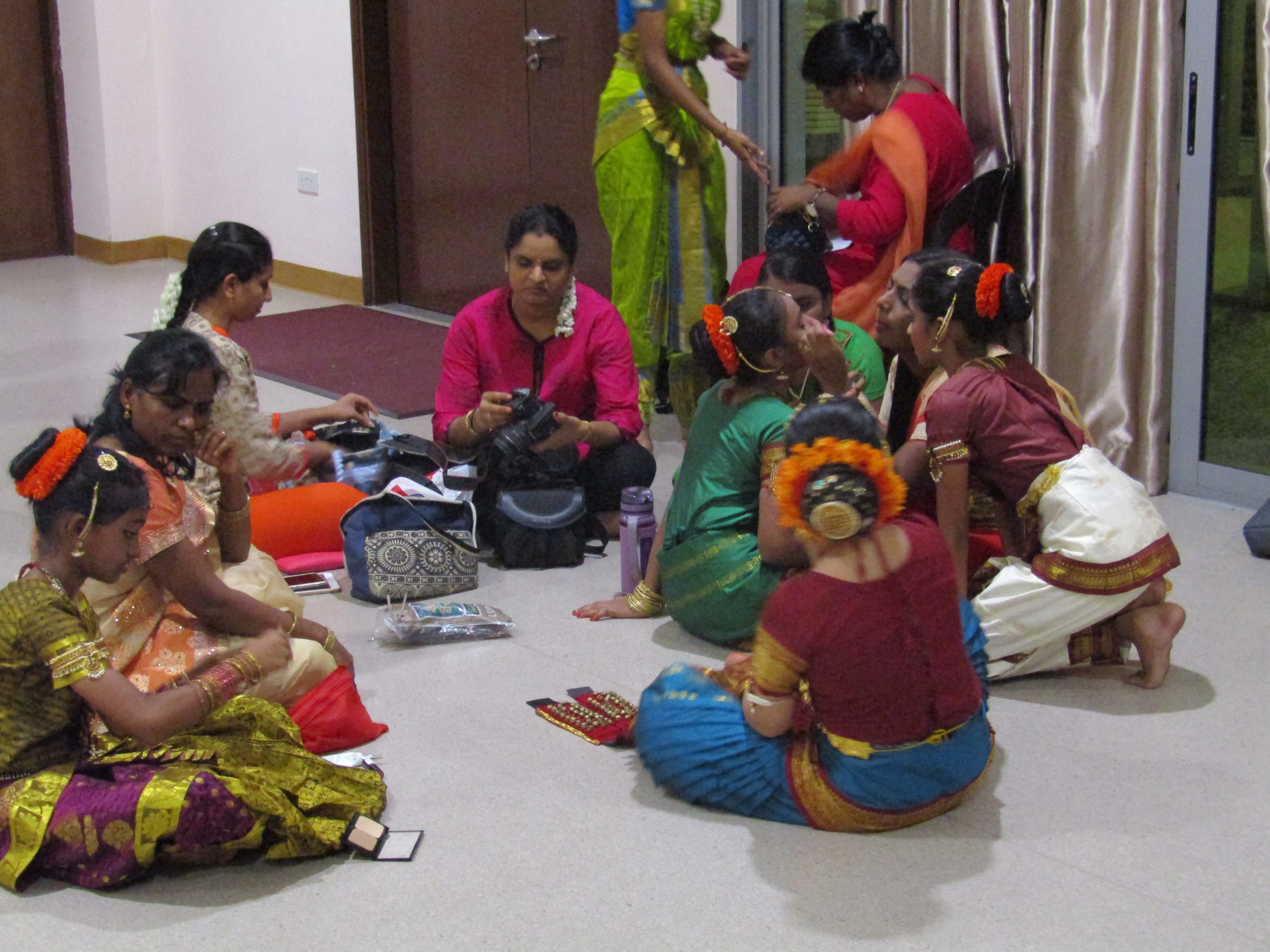 Helping one another before the performance

Mother cum makeup artist

Seeking HER blessings

Ganesha Kautuvam

Shivan's pose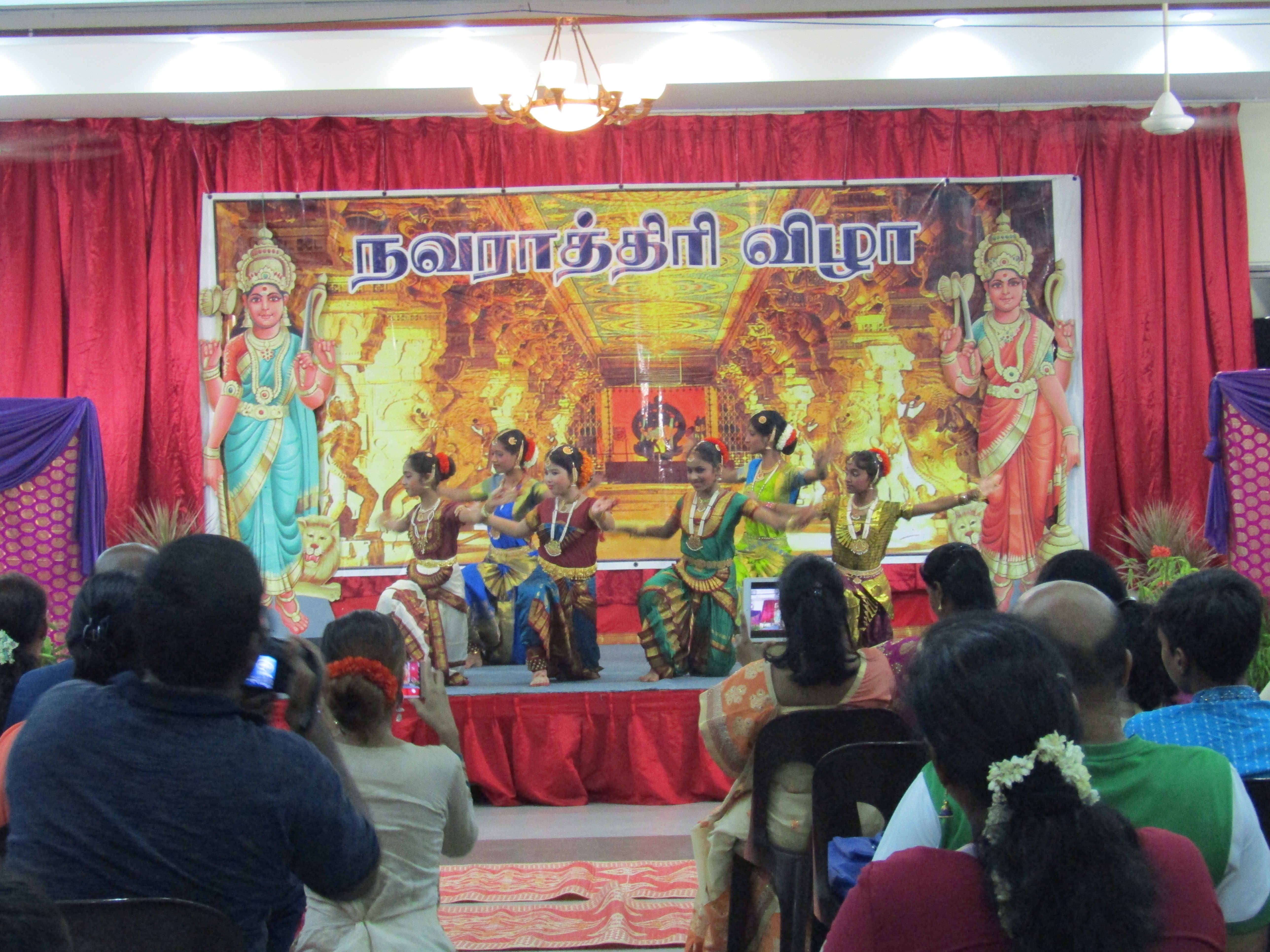 Moshika vahana

Little ones with Kolatam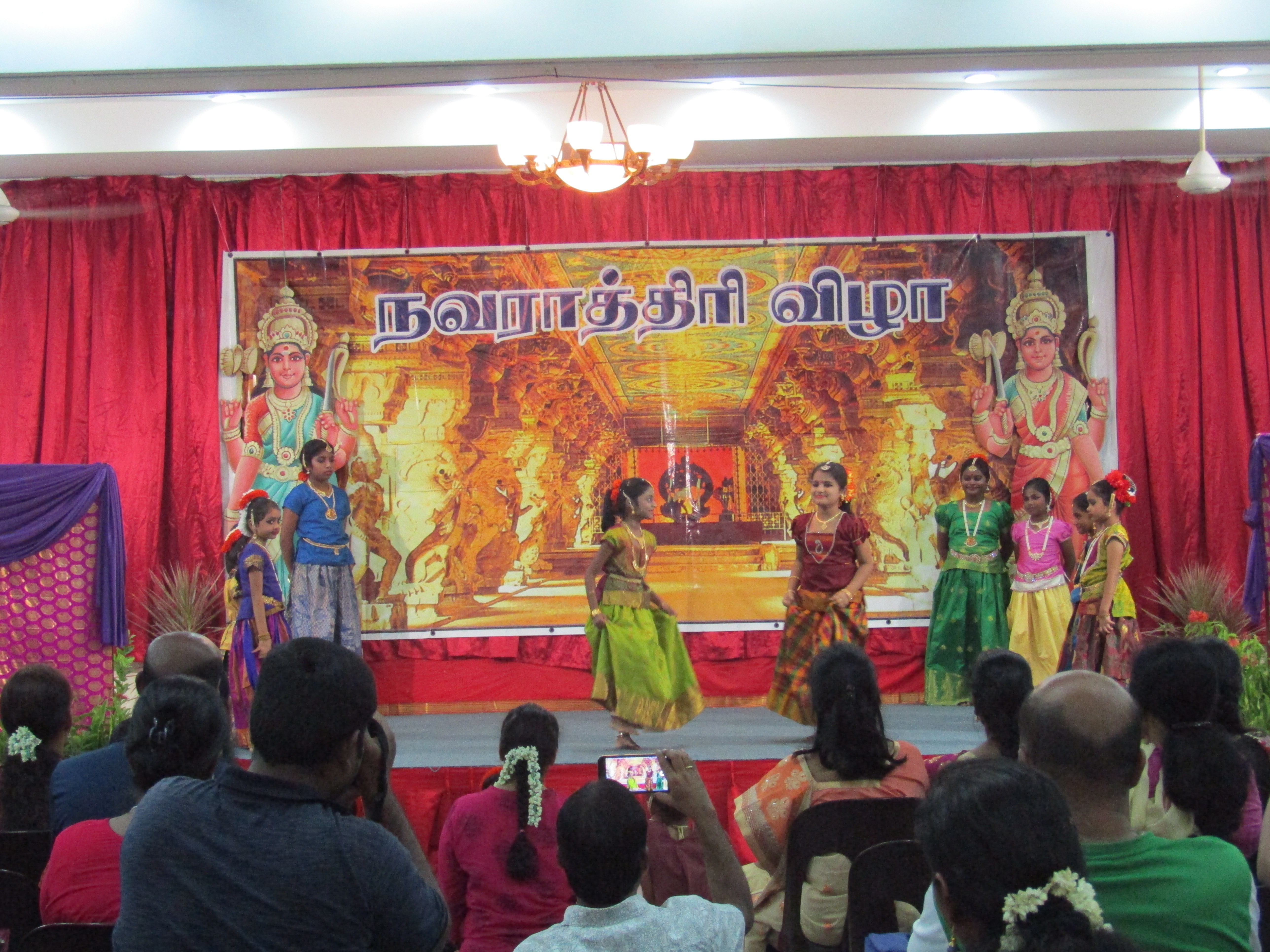 Merrily with Kolatam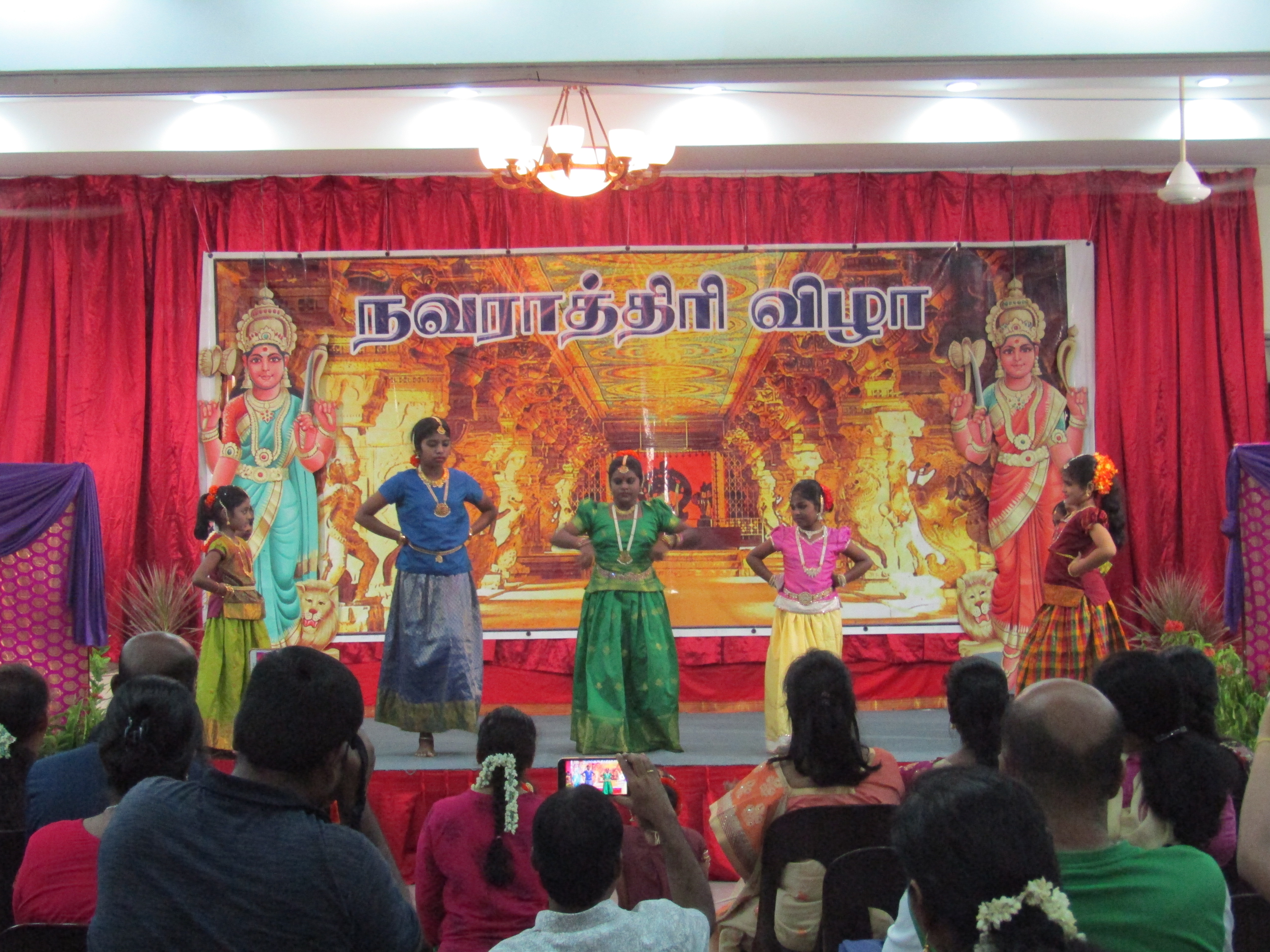 During Kolatam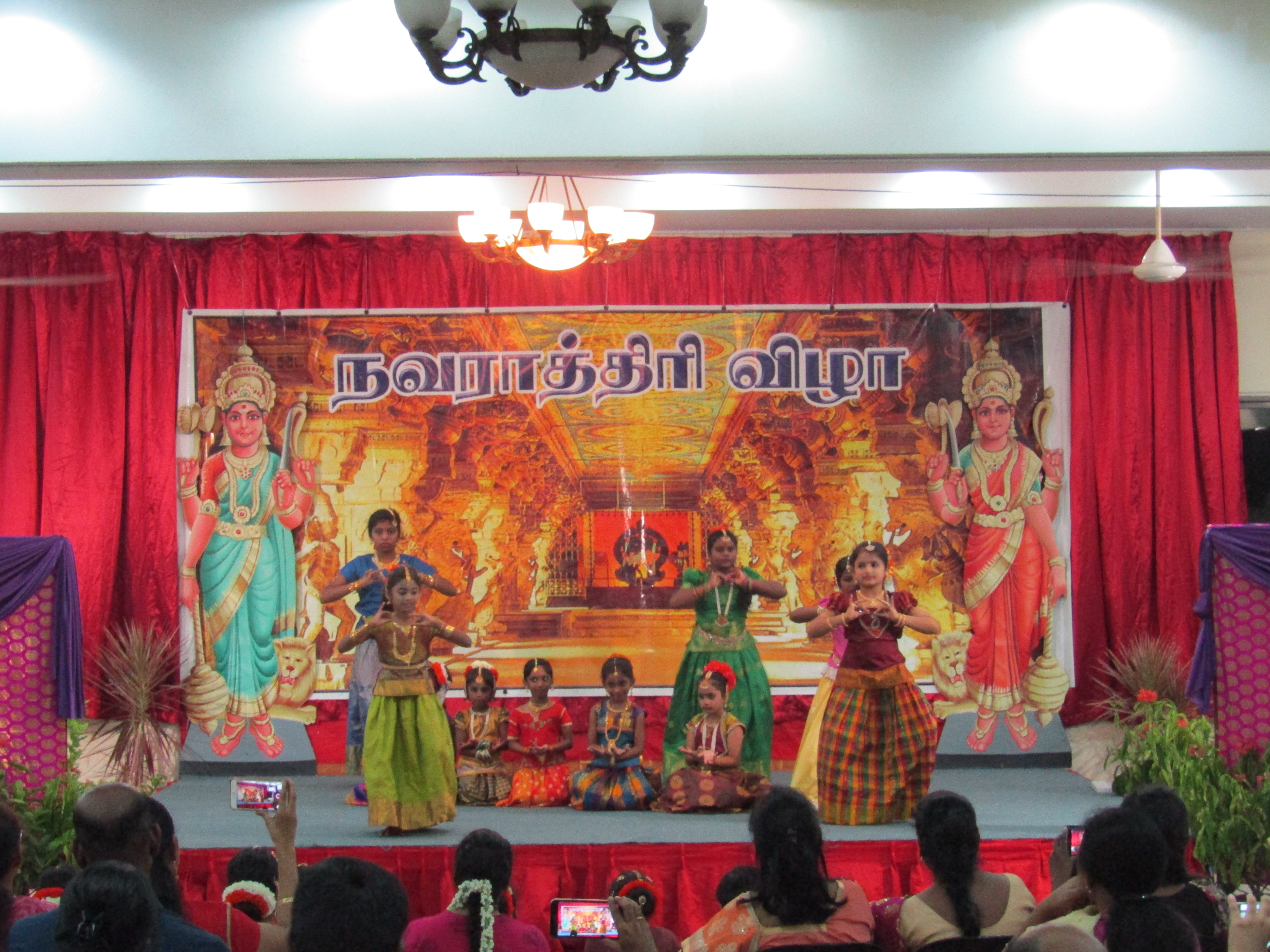 Altogether during kolatam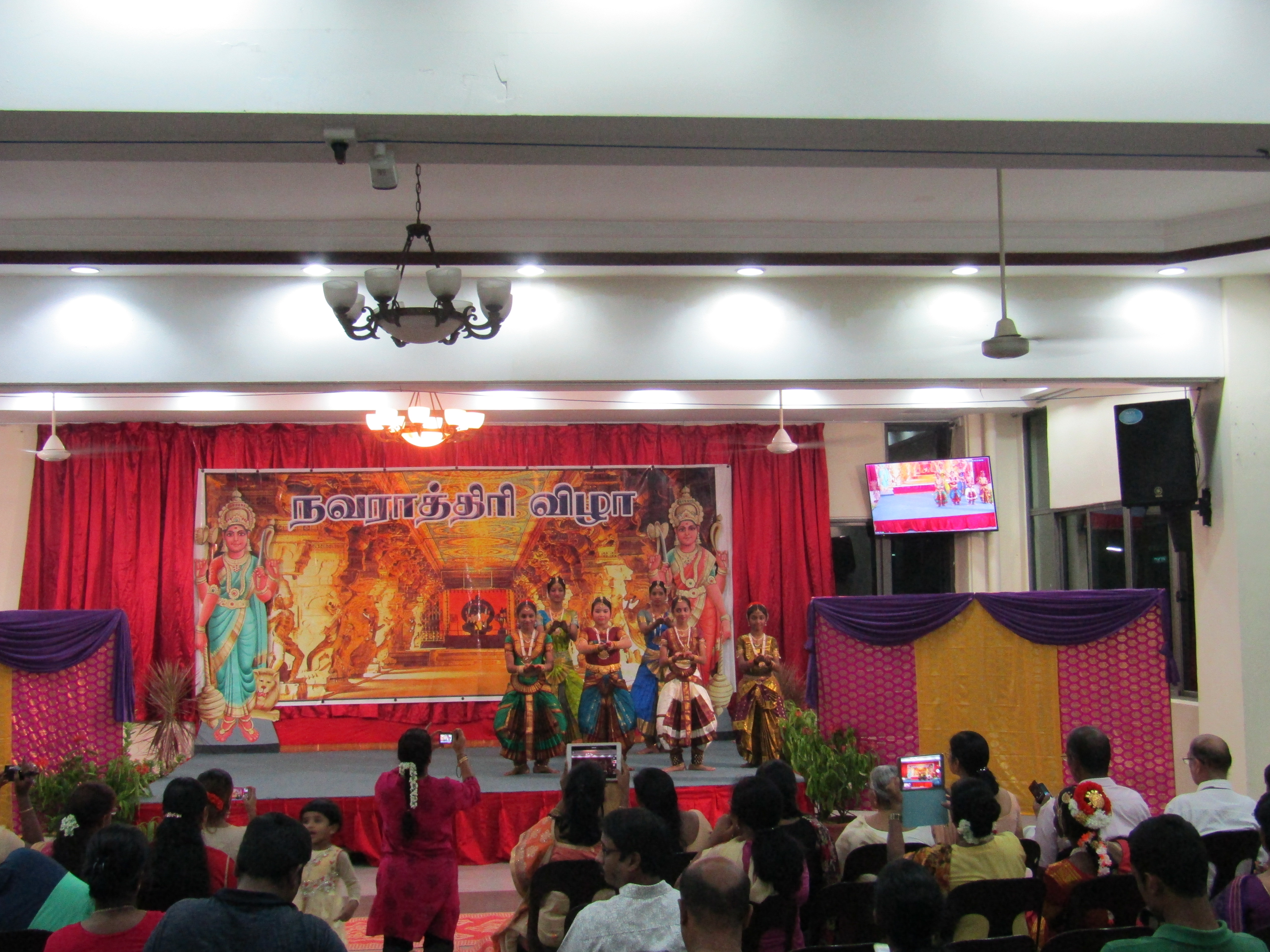 Starting Pushpanjali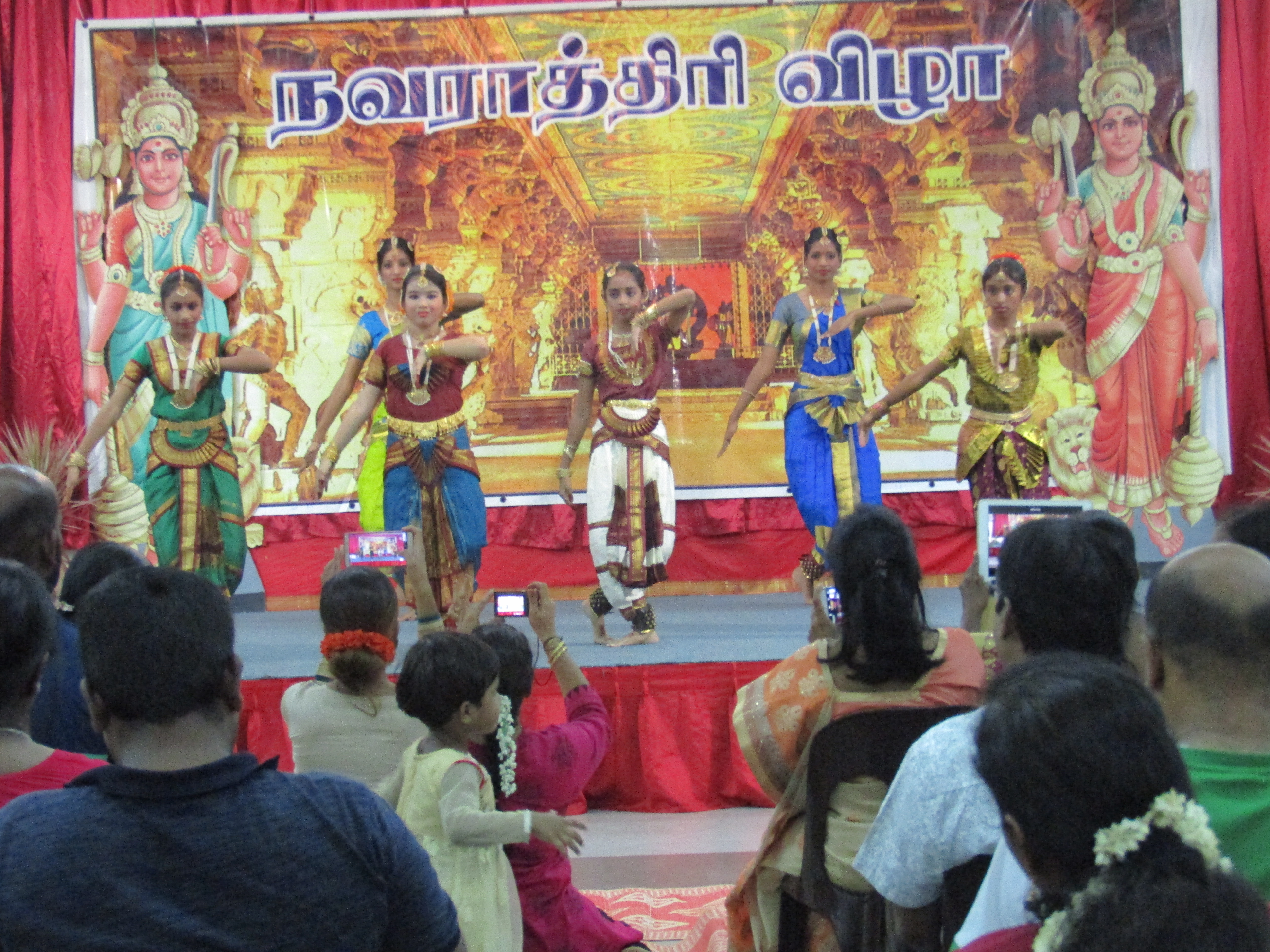 During Pushpanjali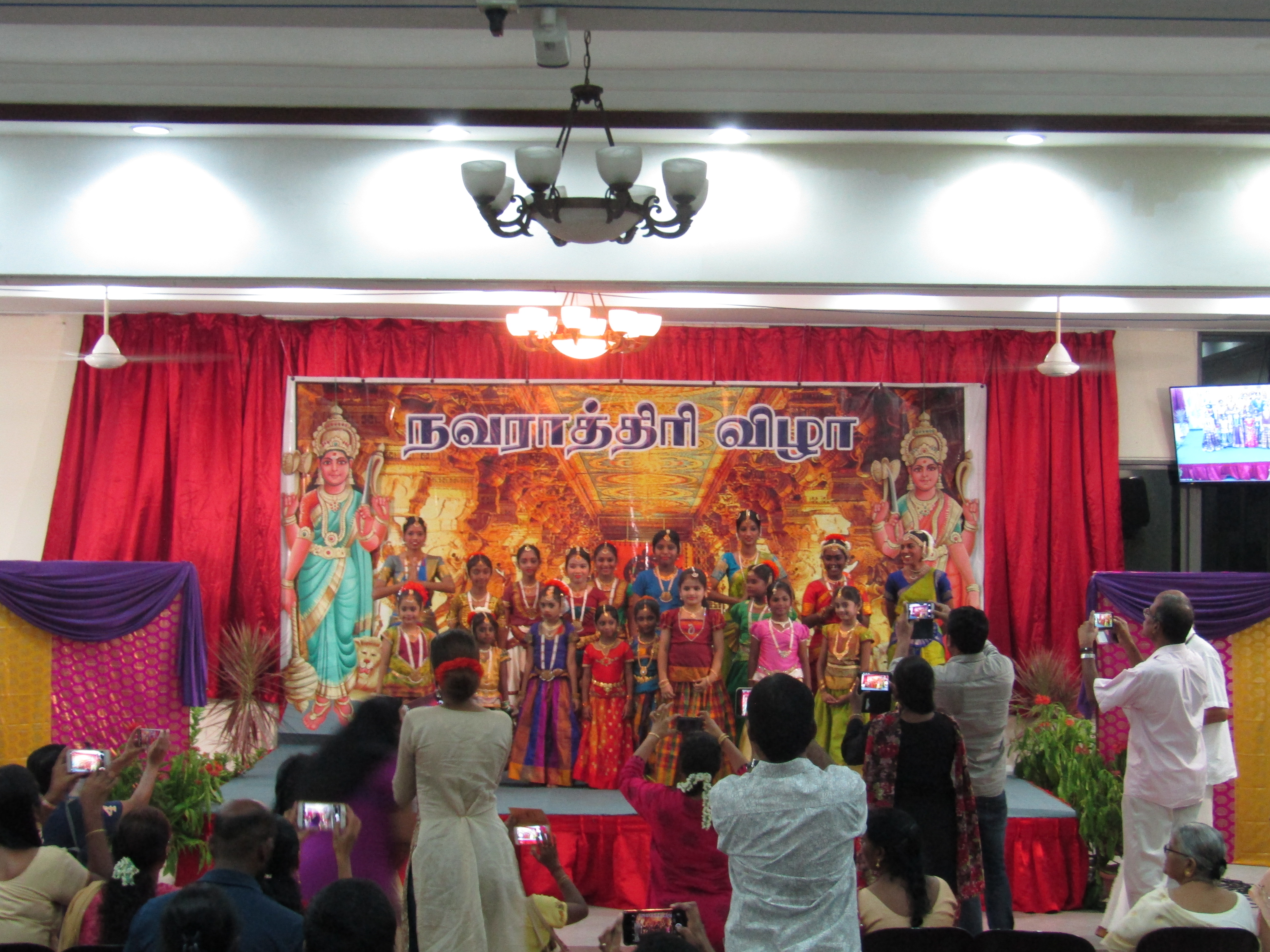 Getting together at the end

Thank you by the Member of the Temple Committee
24 Sep 2017 – Sri Muneeswaran Temple (Commonwealth Drive)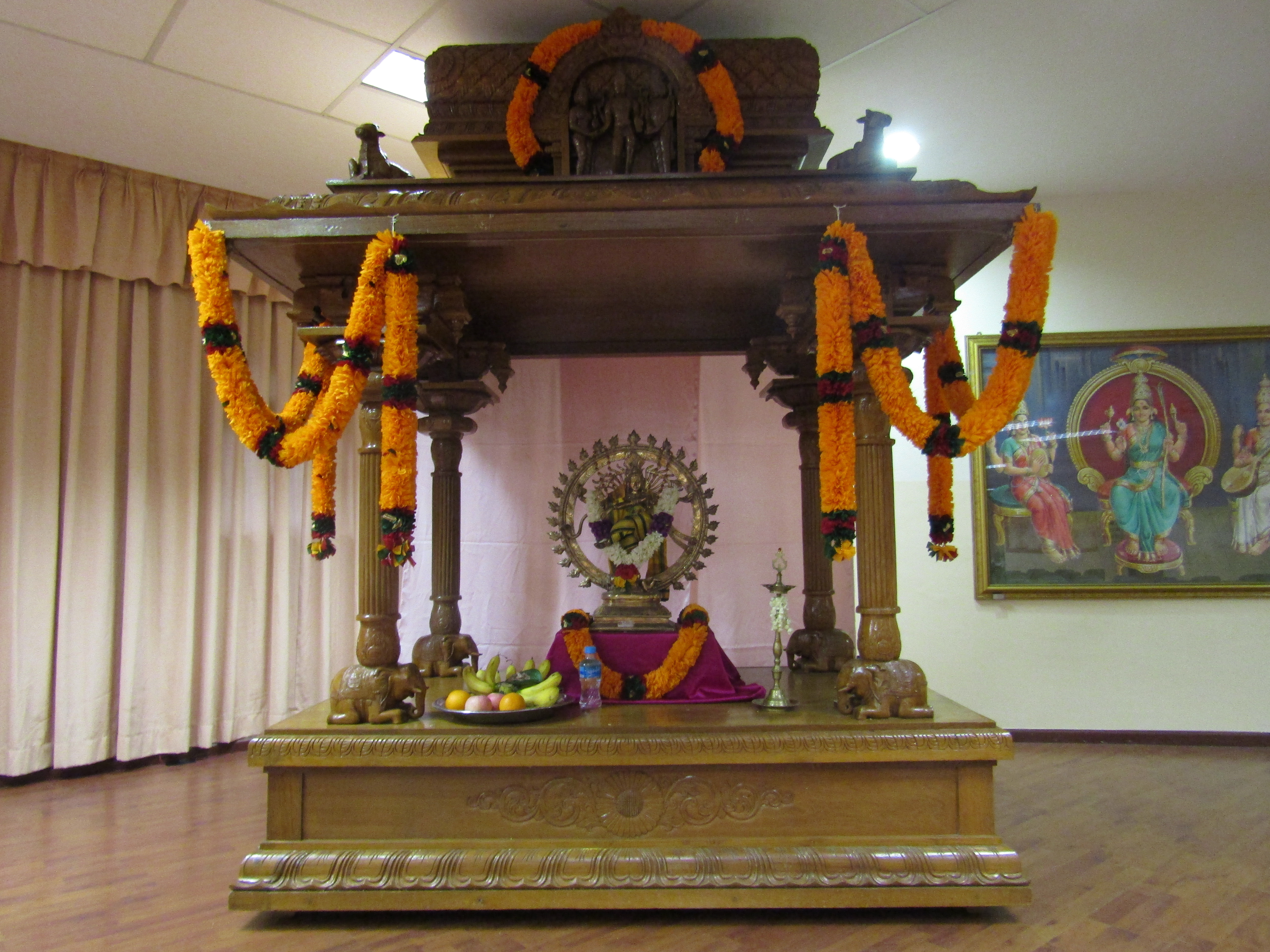 Beautiful stage deco

During Moshika Vahana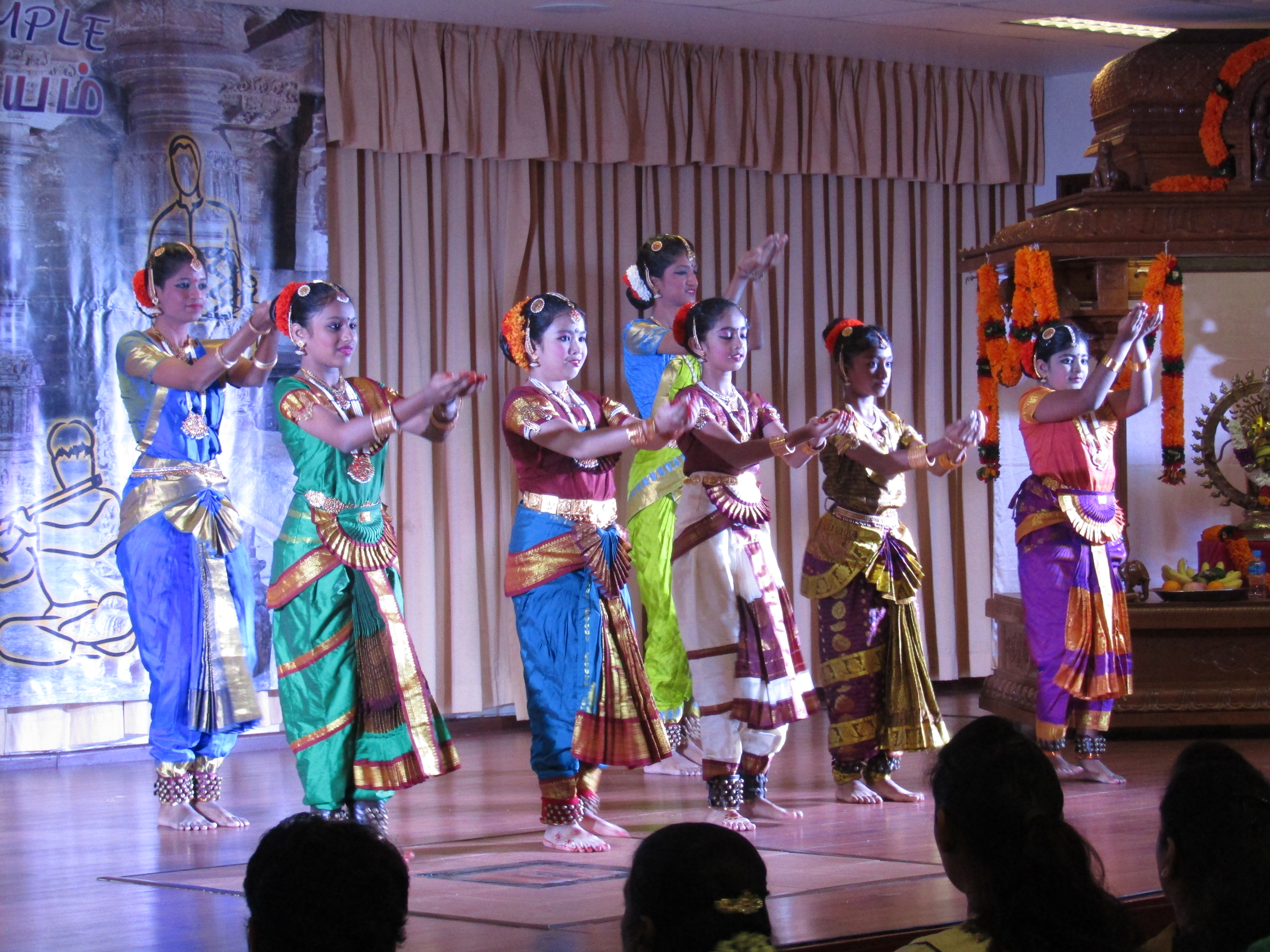 For you, the audience

Pushpanjali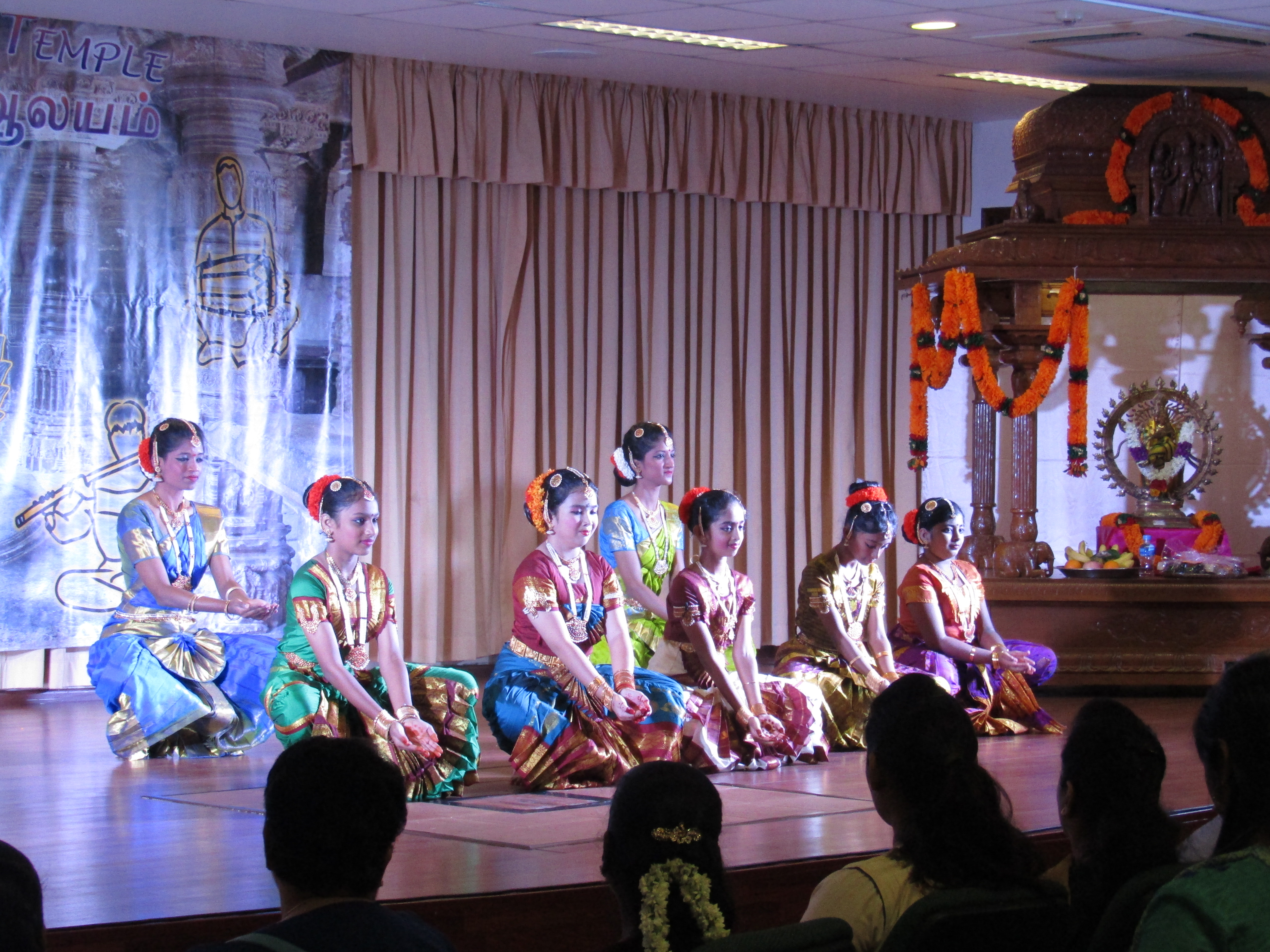 Offering of flowers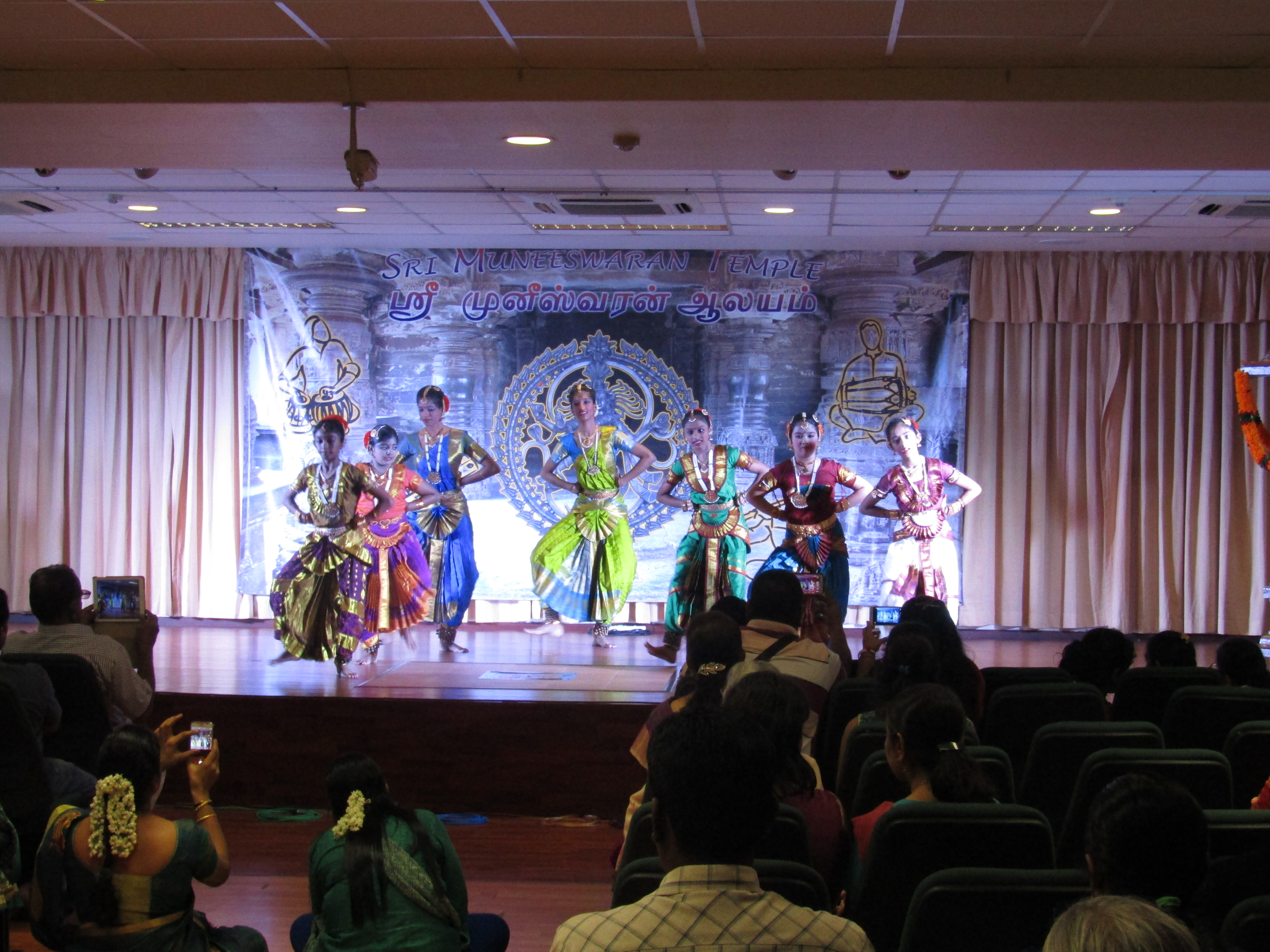 Natesha kautuvam

Half way through Natesha Kautuvam

The big jump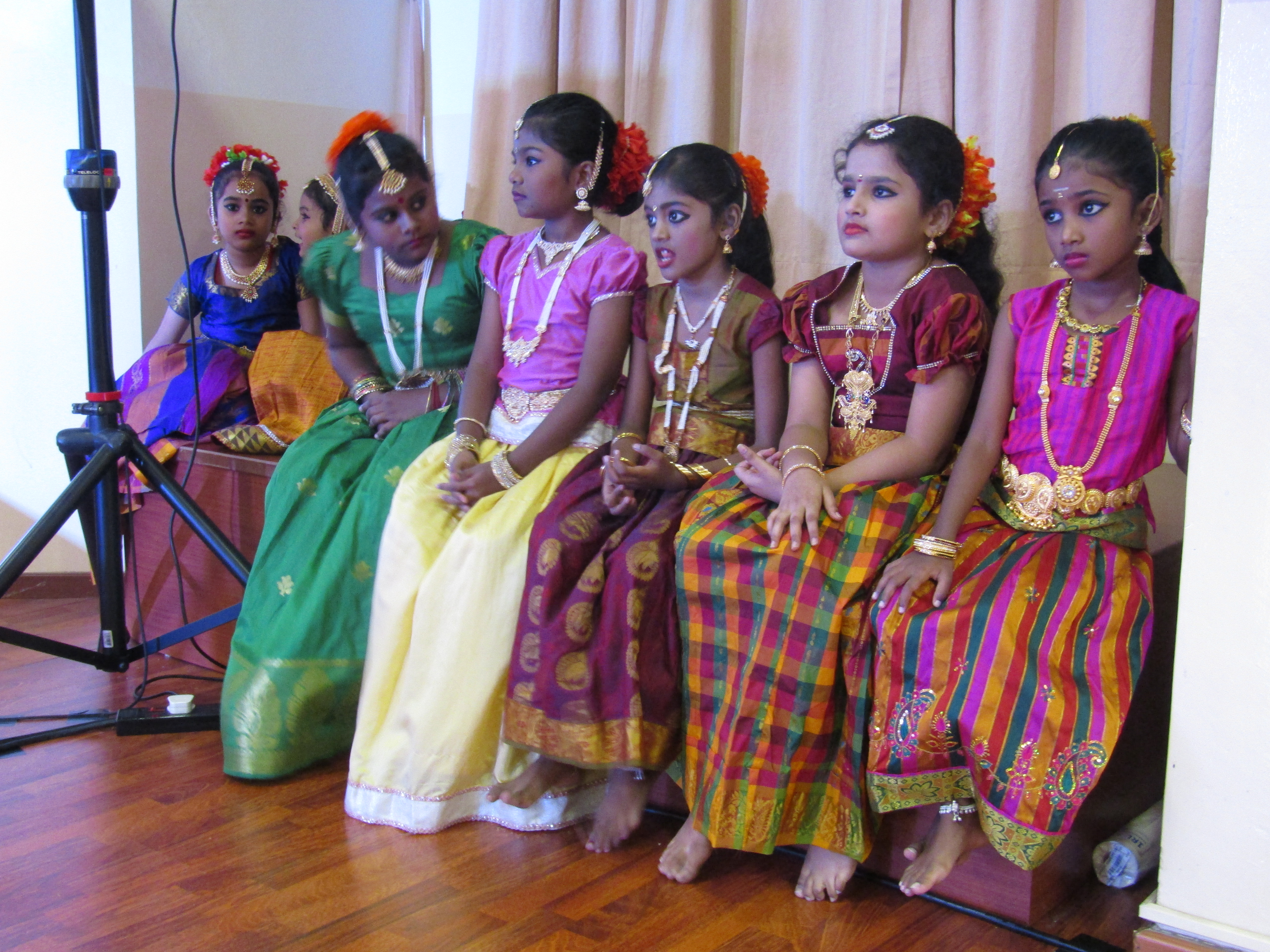 When is my turn?

Kutties get on stage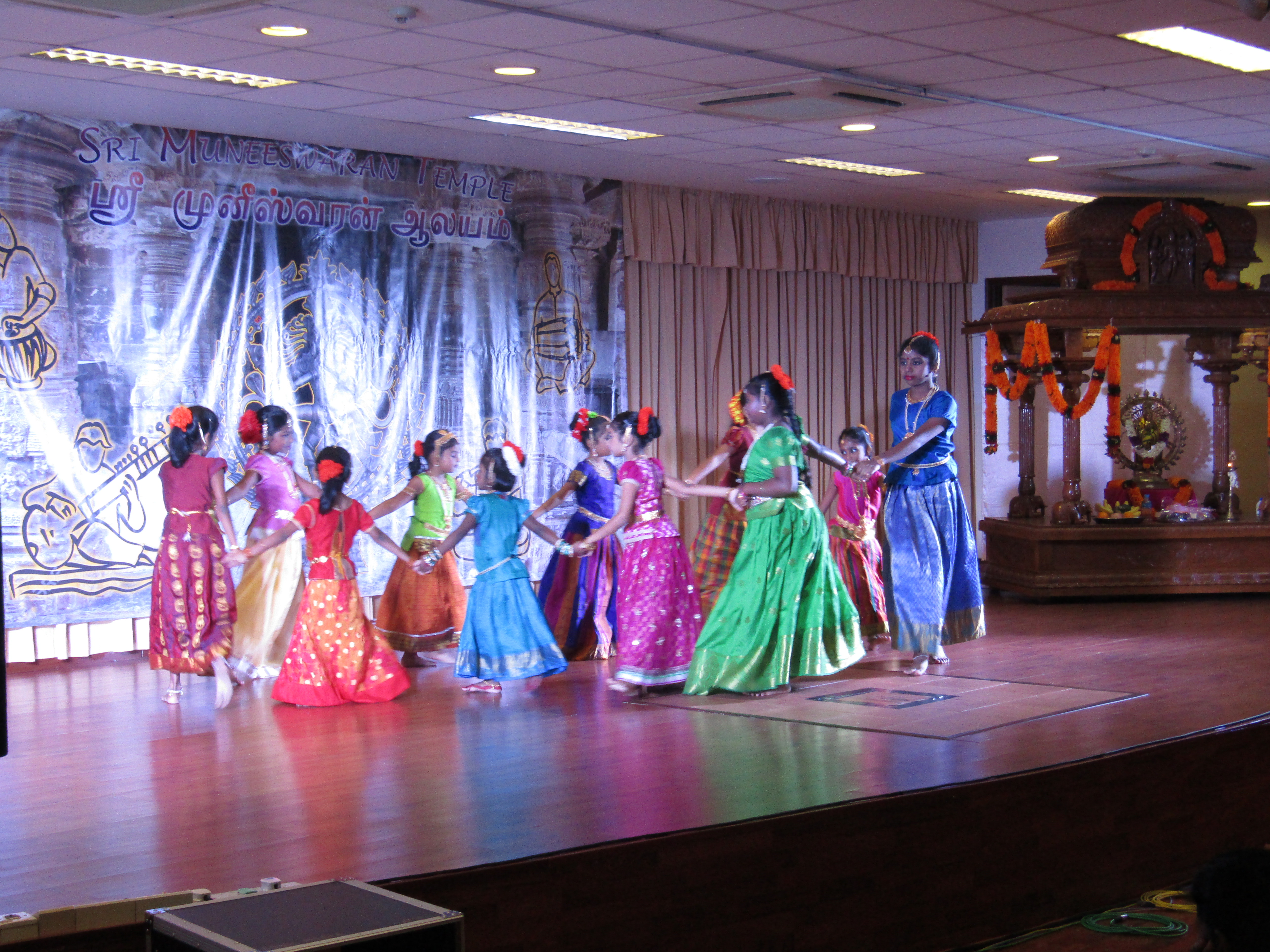 Kutties dancing merrily

Thank you Audience
27 Sep 2017 – Sri Mariamman Temple (South Bridge Road)

Ganesha invocatory item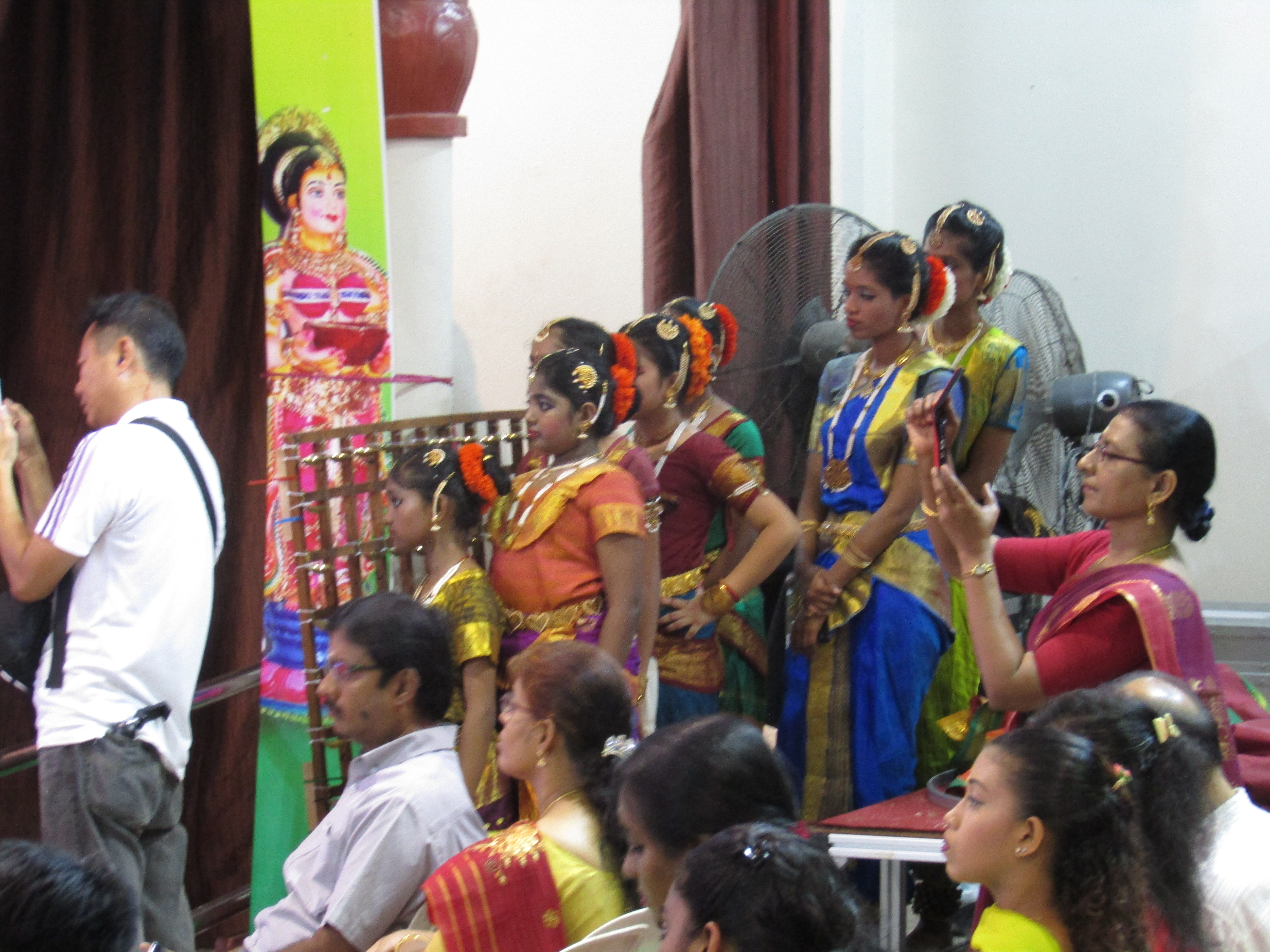 Eagerly waiting for their turn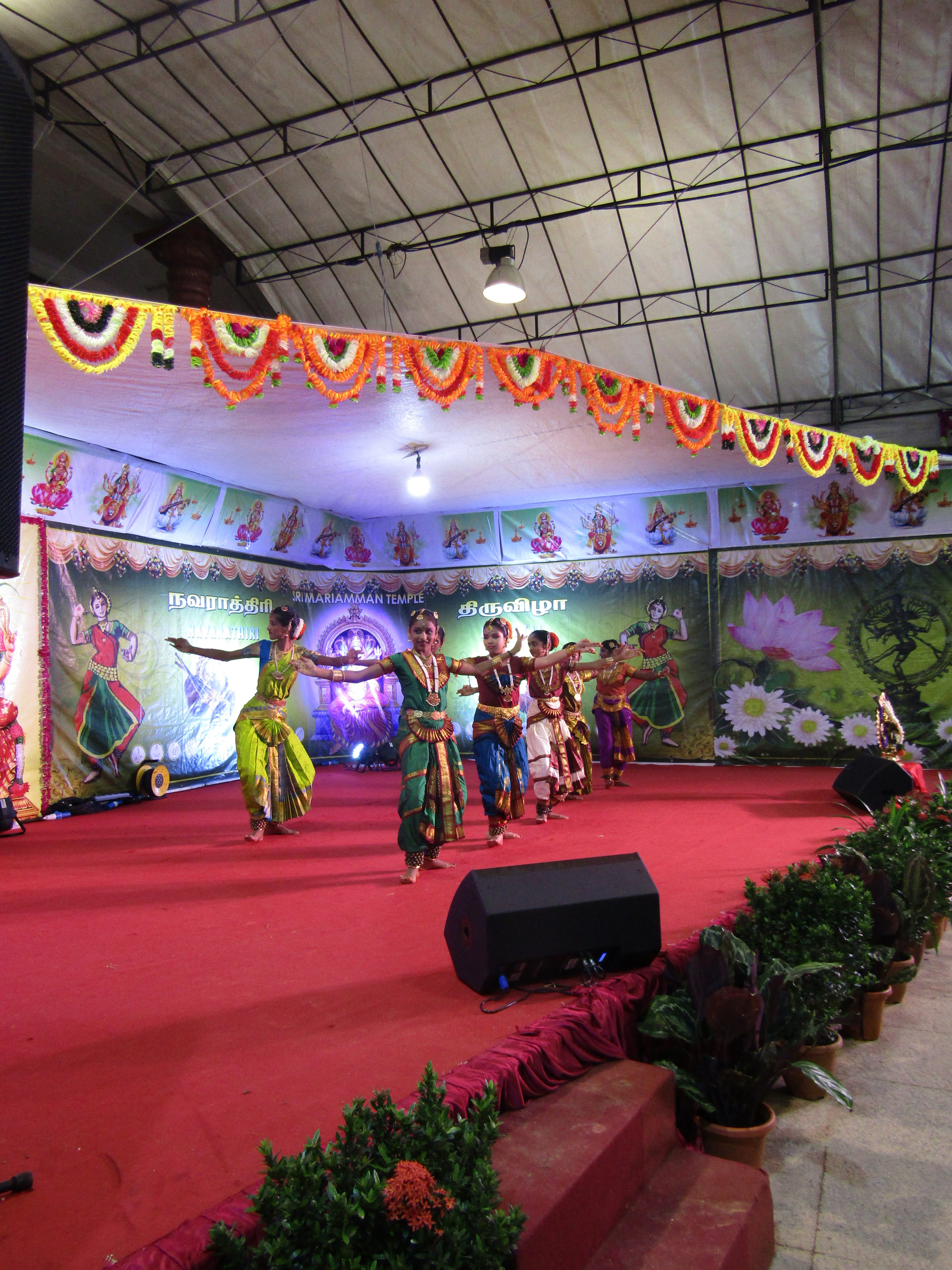 Mooshika Vahana

Pushpanjali

Mid-way through Pushpanjali

Natesha Kautuvam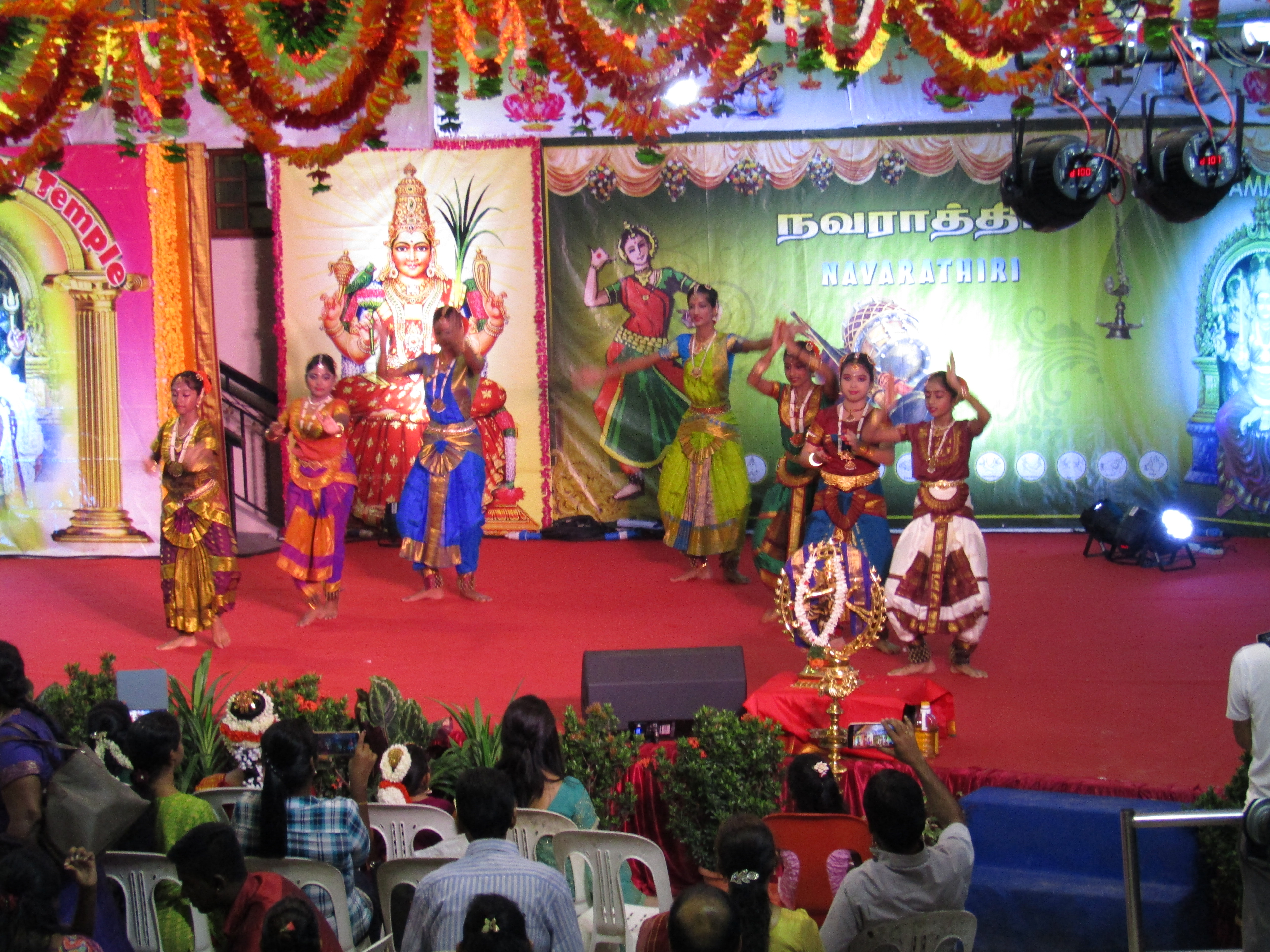 Mid-way through Natesha Kautuvam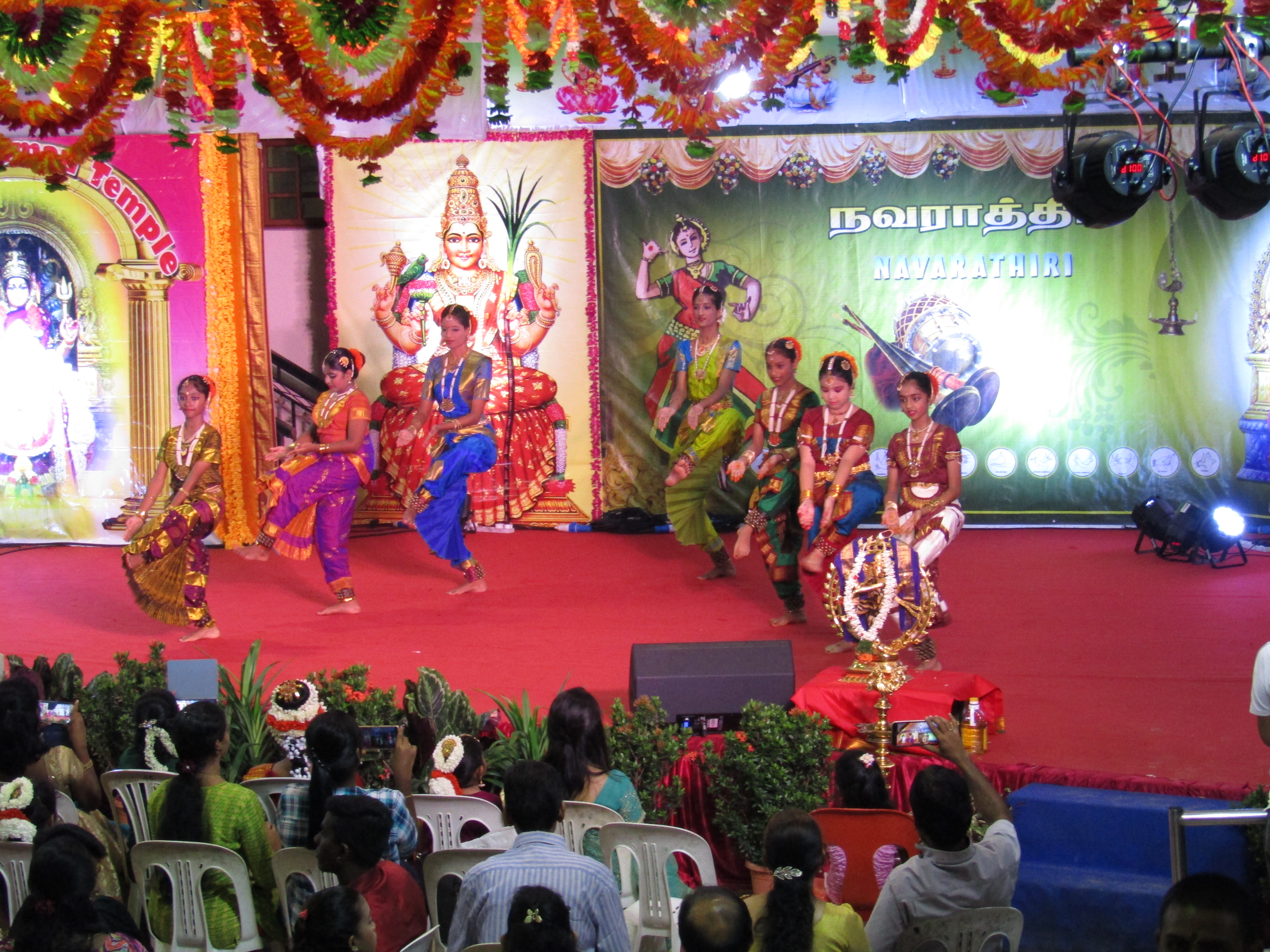 Posing in Natesha Kautuvam
Dance pieces such as Ganesha Kautuvam, Natesha Kautuvam, Pushpanjali, Krithis were performed at the respective Temples for the Navarathiri performances this year. The students from the Saturday 9am class performed for the first time at Sri Mariamman Temple. They were excited about this opportunity and thankful for the exposure. Naatyaanjali is grateful to the Temple Committees for organizing the annual cultural performances and for giving Naatyaanjali the opportunity to perform.
9) Vijayadasami
We celebrated Vijayadasami on 7 Oct 2017 (Sat), a day when victory triumphed over evil. We held a small prayer for Lord Nataraja followed by respects extended to Teacher Jeyanthi Arumuganathan by the students.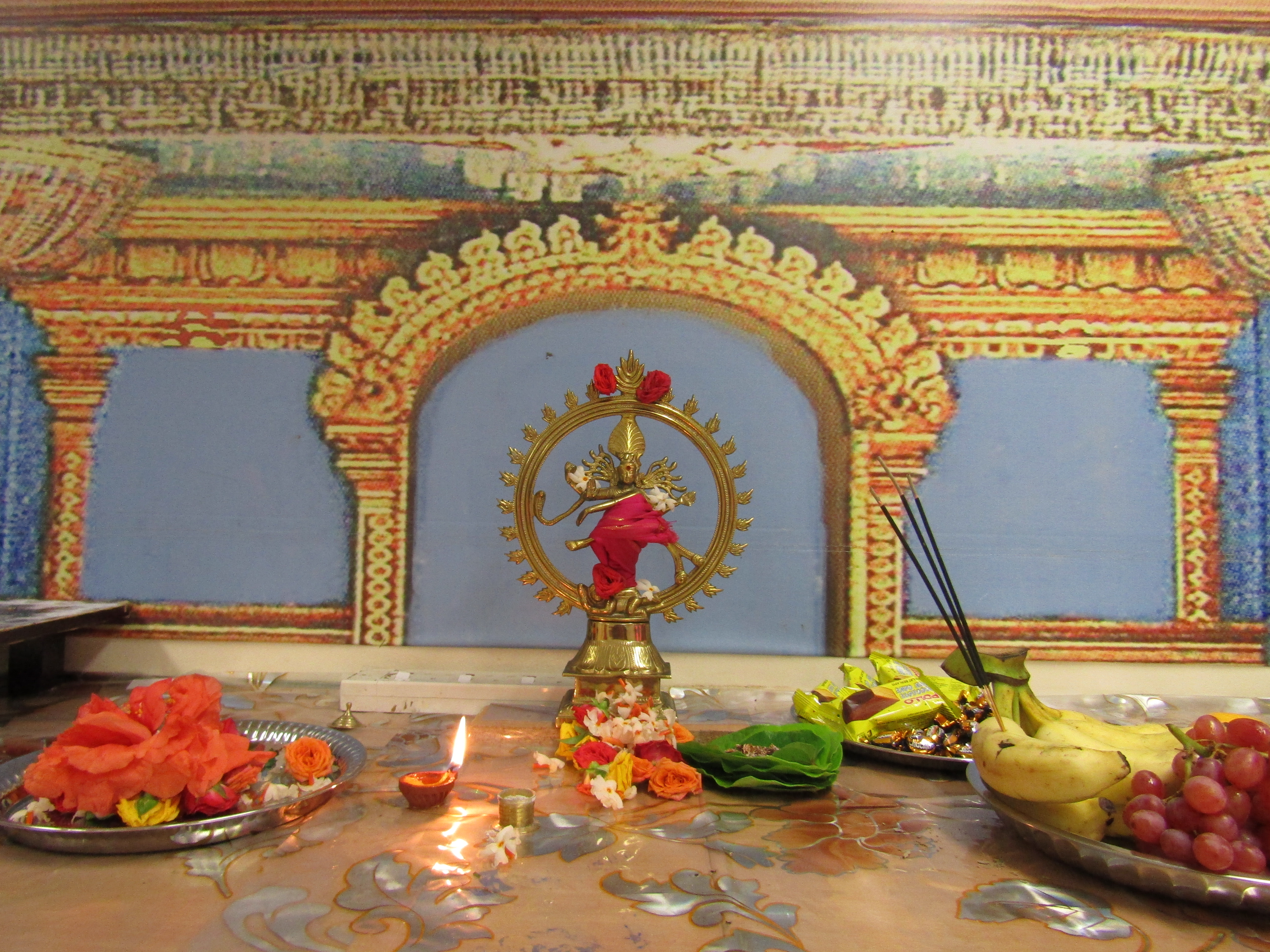 Lord Nadarajar

Student from 9am class doing prayers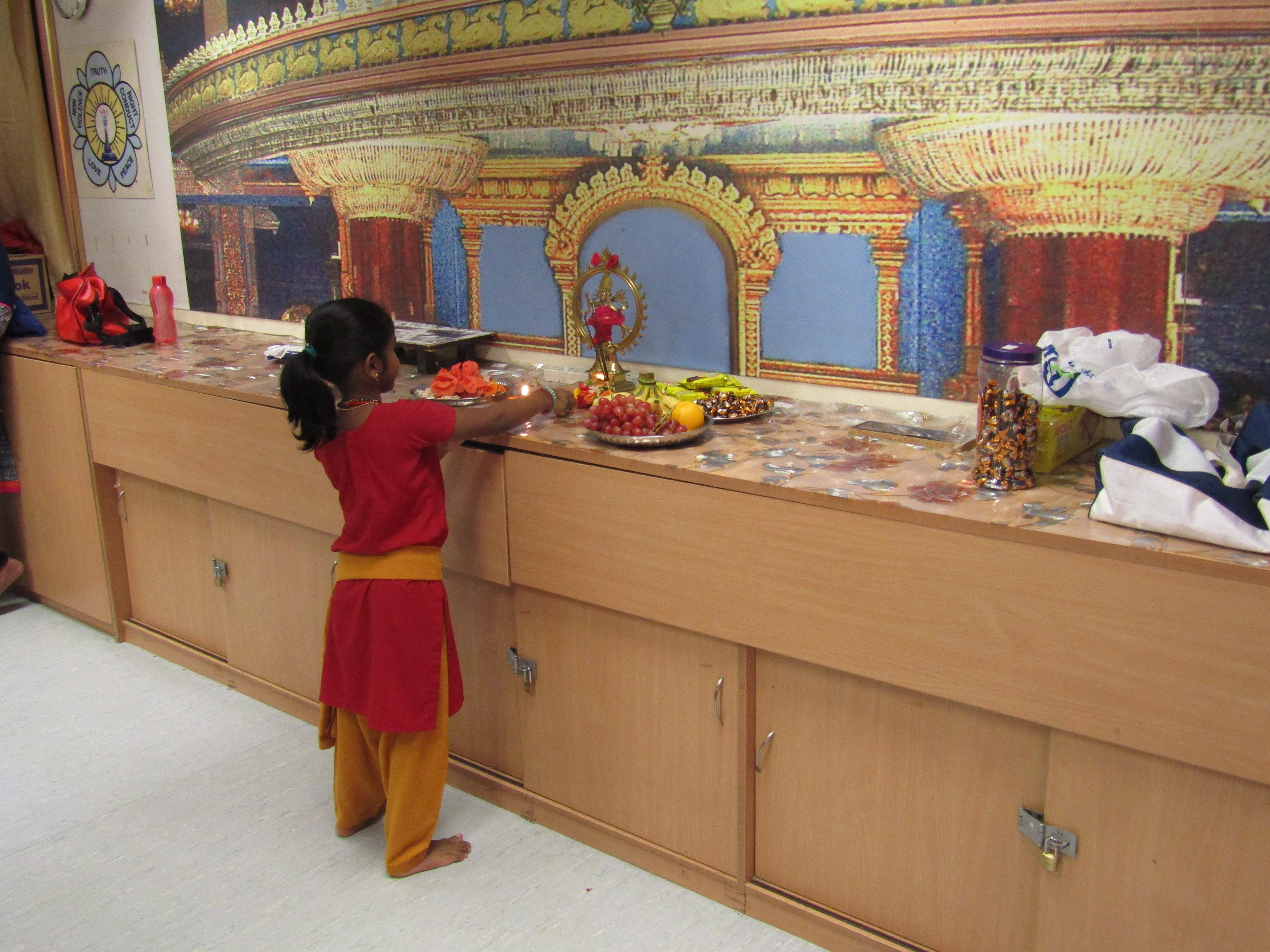 Student from 10am class doing prayers

Seeking HIS blessings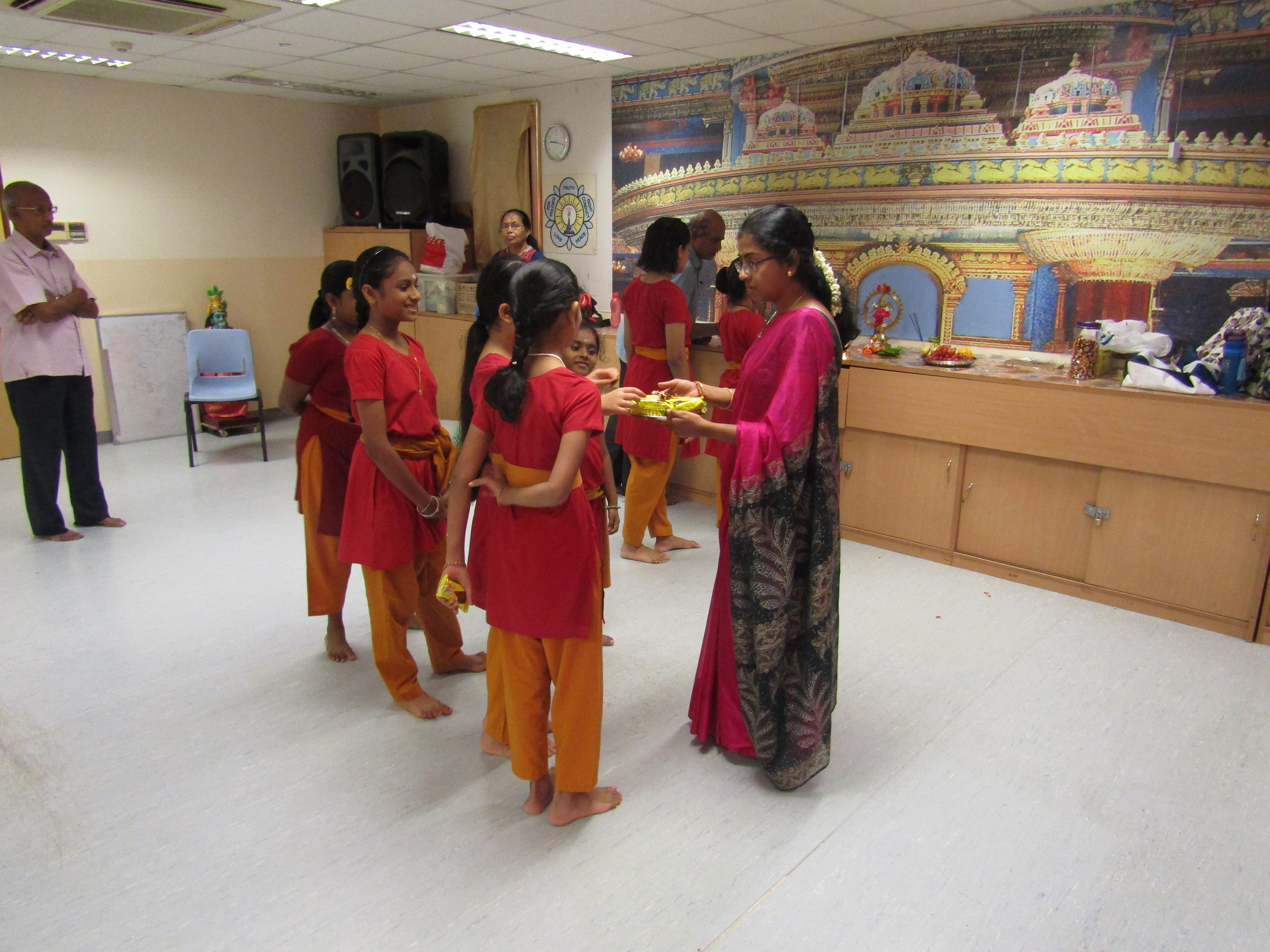 Mingling after the prayers
No tags for this post.